Cabbage and Fennel Slaw with Creamy Jalapeño Dressing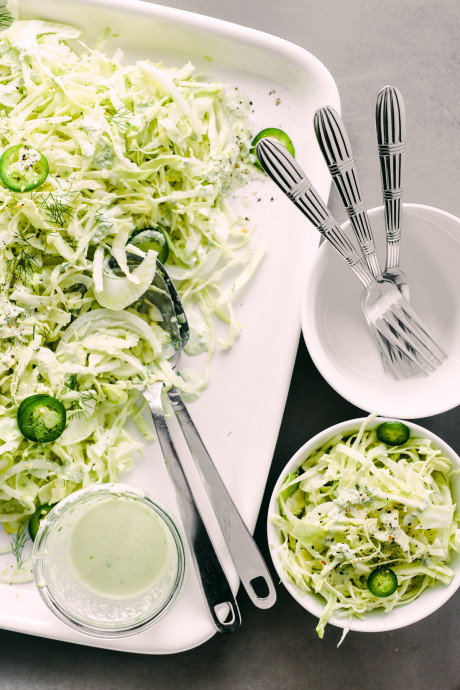 Cabbage and fennel slaw with creamy jalapeño dressing is crunchy and delicious, with just a touch of heat ~ you're gonna love it!
Veggies for the cabbage and fennel slaw: white cabbage ~ white cabbage is the name for regular, pale green cabbage. A small head will do, regular white cabbage is so tightly packed it expands exponentially when you shred it. A tiny head will fill a big salad bowl. Fennel ~ a late winter/early spring veg that adds wonderful crunch and flavor to a slaw. Save the fronds for a garnish, or chop them up and fold right into the slaw. Don't like fennel? Leave it out or substitute celery, jicama, cucumber, or green bell pepper. Vidalia onion ~ or any generic sweet onion. Vidalia onions are quite mild and sweet, and balance out the white cabbage nicely. Yes, you can absolutely eat them raw, they're delicious! Sweet onions lack the sharp sulfuric compounds that make regular onions sharp. Look for them right next to the regular onions in your produce aisle.
Ingredients:
creamy jalapeño dressing
1-2 jalapeños
1/3 cup sour cream
1/3 cup mayonnaise
1 Tbsp prepared horseradish, or more to taste
1 Tbsp lemon juice
salt to taste
coleslaw
1 small head white cabbage
1 small Vidalia onion
1 fennel bulb