Banana Pancakes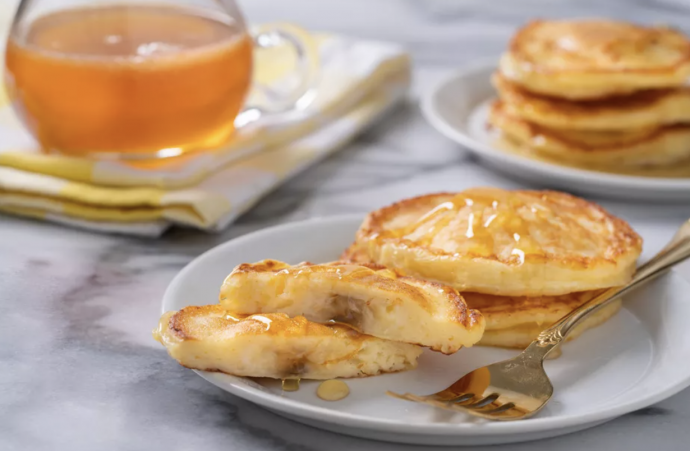 What's better than pancakes on a lazy weekend morning? Pancakes with a surprise inside! When you cut into these banana pancakes, there is a slice of fresh banana waiting for you.
These pancakes are quick and easy because most of the work to make the batter is done in the blender. We like to incorporate cottage cheese into the batter for extra flavor and an added protein boost.
Serve these with the classic pat of butter and drizzle of maple syrup, or try this warm honey and lemon syrup. These subtle flavors lend an air of sophistication to the breakfast table. Serve with crisp bacon or sizzling sausage links for a memorable sit-down family breakfast.
Ingredients:
1/2 cup cottage cheese
1/2 cup sour cream
1/2 cup plus 1 tablespoon honey
1/4 teaspoon vanilla extract
1/4 teaspoon salt
2 large eggs, room temperature
1/2 cup all-purpose flour
1/2 teaspoon baking powder
1 banana, peeled and cut into 18 thin slices
1 tablespoon vegetable oil, or canola oil
2 tablespoons fresh lemon juice