Cheesy Shrimp and Grits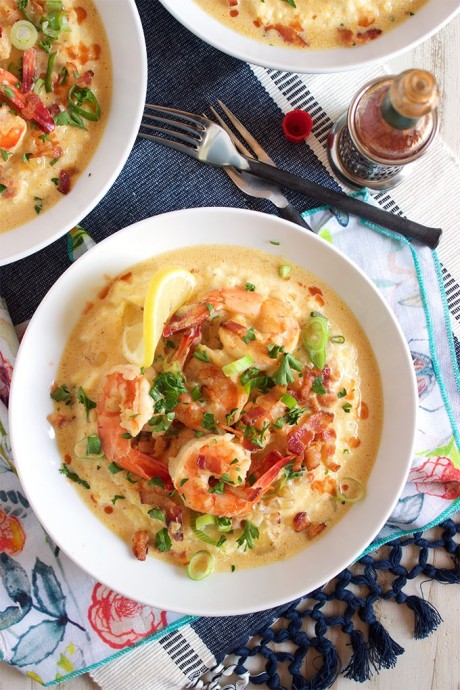 A classic Southern dish you can make at home in minutes, Cheesy Shrimp and Grits is a creamy, comforting bowl of happy. Cheesy grits are topped with a healthy helping of tender shrimp swimming in a slightly spicy cream sauce that will keep you digging in for more.
Cheesy Shrimp and Grits couldn't be easier to make. I like to make the grits first so they're perfect and smooth. They take a few minutes of your attention at the beginning but the result is a velvety smooth bowl of heaven. The sauce is slightly creamy but not overly thick. It's the perfect blanket for your shrimp, not too heavy and not too light - just right. It's like a bowl full of southern sunshine, but with shrimp and bacon and other goodness just ready for you to dig into.
The shrimp and gravy dish comes together in about 35 minutes making this an easy weeknight dinner that will transport your tastebuds on a mini vacation. I can guarantee you'll want to add this recipe to your weekly meal rotation.
Ingredients:
2 cups low fat milk
2 cups water
1 teaspoon Kosher salt
1 cup yellow cornmeal grits
2 tablespoons salted butter
1 cup shredded white cheddar cheese
4 slices bacon, chopped
1½ pounds shrimp, peeled & de-veined
1½ cups chopped onion
3 cloves garlic, minced
3 tablespoons cornstarch
1½ cups low sodium chicken broth
1 cup heavy cream
1 tablespoon butter
1 teaspoon cayenne pepper (use less if you don't like spicy)
1 teaspoon hot sauce
1/2 teaspoon Kosher salt
1/2 teaspoon freshly ground black pepper
1/2 cup chopped green onions
1/4 cup chopped fresh parsley