Brigadeiro Macaron Cake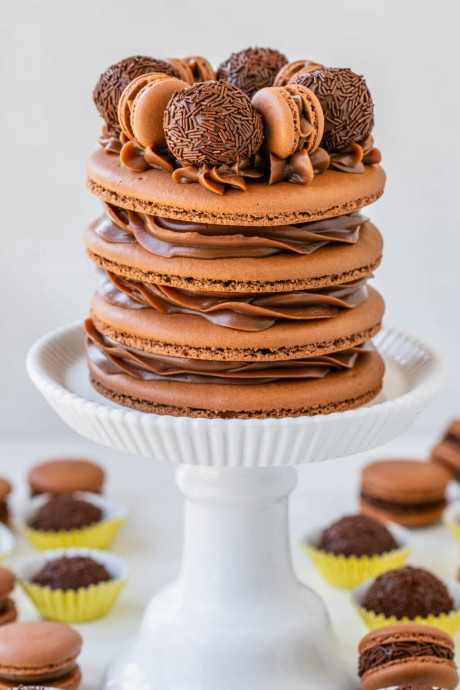 Hello friends! Today I am showing you how to make a Brigadeiro Macaron Cake, filled with actual cake and also brigadeiro! I made this for my sister's birthday a few weeks ago, she loves brigadeiro, and so do I.
Brigadeiro is wonderful because it is shelf stable for a couple of days, so this cake doesn't even need refrigeration if staying in a cool place (ie, not under the direct sunlight obviously).
Plus, brigadeiro is one of the most delicious things in the world. Brigadeiro is essentially a fudge made out of sweetened condensed milk, butter, and flavoring (chocolate in today's case).
Ingredients:
Chocolate Macaron Shells
100 grams egg whites
100 grams white granulated sugar
105 grams almond flour
75 grams powdered sugar
14 grams cocoa powder
Chocolate Cake
1 1/2 cups all-purpose flour 183 grams
1/3 cup unsweetened cocoa powder 39 grams
1 1/2 tsp baking powder
1 tsp baking soda
3/4 tsp fine sea salt
1/2 cup unsalted butter room temperature 113 grams
1 cups sugar 200 grams
2 eggs
2 tsp vanilla extract
2/3 cup milk 157 ml
2/3 cup hot brewed coffee read notes* 157 ml
Brigadeiro
2- 14 oz. Sweetened Condensed Milk 792 grams
1/4 cup chocolate chips* or chopped chocolate or chocolate powder
1 tbsp butter plus more for rolling
1/3 cup sprinkles