Mint Chocolate Brownie Cookies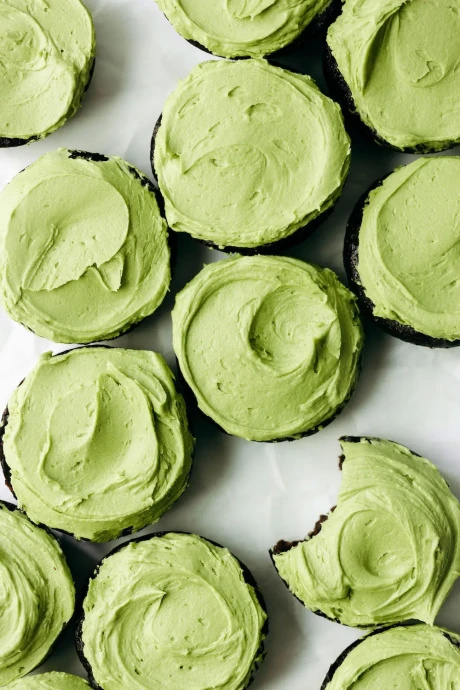 Mint Chocolate Brownie Cookies featuring a fudgy grain-free batter and fluffy vegan buttercream frosting for a decadent but healthy dessert!
Do you ever find yourself semi-resentful at just how much space your muffin pan has the audacity to claim in your baking pan drawer for a piece of equipment that only makes one thing? One very magical thing no less, but still. Refusing to stack neatly with the others? Refusing to even stack neatly with its own miniature version? A bit self-important I think. But friends, I have found our retribution: brownie batter but as a cookie baked in a muffin pan and frosted like a cupcake. We will address the fantastically fluffy green frosting goodness on top in a moment, but for now let's just focus on the brownie/cookie/muffin underneath.
I took my favorite flourless brownie batter, tweaked it slightly to swap the sugar for Medjool dates, and then tweaked it again to make it more chocolatey by adding more chocolate in mini chip form. But bake all that in a muffin pan only filled a third of the way and you get the most delicious THICK but so so fudgy chocolate brownie cookies.
Ingredients:
1 cup packed (~200g) Natural Delights Pitted Medjool Dates
1/2 cup (120g) almond milk
1/2 cup (125g) almond butter
1 flax egg (1 tbsp flax meal + 3 tbsp water)
1 tsp vanilla extract
1/2 cup (45g) cocoa powder
1/2 tsp baking soda
1/4 tsp salt
1/3 cup (75g) mini chocolate chips
Frosting
1/2 cup vegan butter
2 cups powdered sugar
2 tsp matcha powder
1 tsp mint extract
1 tbsp almond milk