Marshmallow Pineapple Pie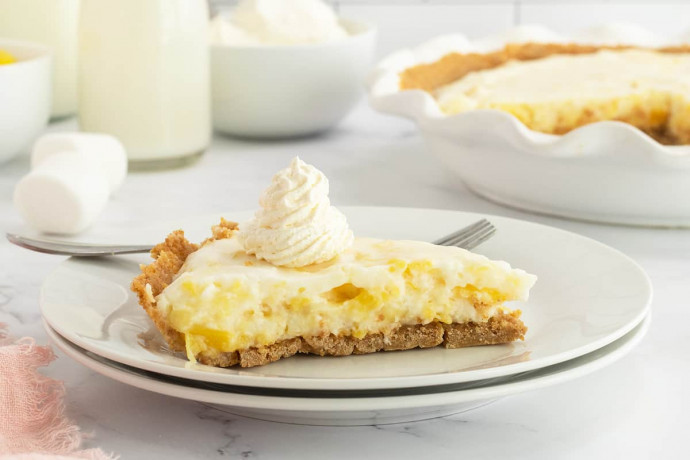 Moist, fluffy, and tropical from all the pineapple, this classic Midwestern Pie is an easy weeknight dessert. Made from just a few simple ingredients, it tastes way more fancy and delicious than it has any right to be.
This recipe for marshmallow pineapple pie is very much a quintessential Midwestern dish. It uses whipped cream and a whole lot of marshmallows to make for a soft, decadent textured filling and plenty of canned and crushed pineapple for that hit of tropical flavor.
Though it might seem strange to imagine cutting a slice out of this pie, it really is actually very good. All of the flavors just sort of work together – sweet, a little bit tart, mellow and creamy, all underpinned by the satisfying crunch of a graham cracker crust.
Plus, it keeps surprisingly well in the fridge so that you can keep the leftovers for at least a few days!
Ingredients:
Graham Crust
1 Pre made baked graham pie crust
Marshmallow Pineapple Pie Filling
1/2 Cup 2% milk
38-40 Large Marshmallows Or about 226 grams
⅛ tsp Salt
1/2 Cup Whipping cream
1 Cup Crushed Pineapple Drained and all liquid squeezed out