Cheesy Vegetarian Tofu Enchiladas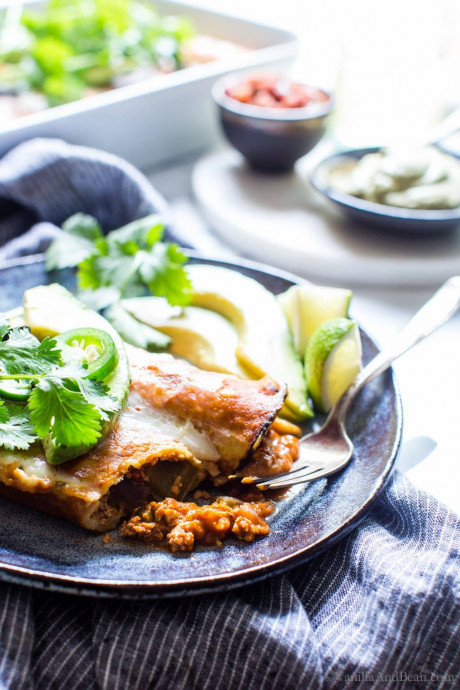 A mouthwatering vegetarian enchilada recipe, these Cheesy Tofu Enchiladas are flavor packed, texture rich and so simple to make! Give these veggie enchiladas a go… they may just change your mind about tofu. This recipe is vegetarian and easily gluten free.
Lightly fried corn tortillas are traditionally used to make enchiladas. The oil softens the corn tortillas rendering them more playable and less likely to crack. I avoid this traditional preparation and instead approach enchilada prep using one of two alternatives for this recipe.
I love a flour/corn blend tortilla just the same. They're easier to work with (no oil) and require no warming prior to rolling the enchiladas.
If using corn tortillas for this recipe, look for a brand that includes xantham gum because it makes the tortillas easier to roll with no cracking. I gently warm the tortillas instead of frying just prior to assembling.
Ingredients:
Ingredients
2 C (500g) Red Enchilada Sauce I use homemade
14 oz block (397g) Firm Tofu* (see notes) drained and pressed
2 tsp Olive or Coconut Oil
1 C (120g) Red/Purple Onion diced, about 3/4 of a medium onion
1 C (145g) Green Bell Pepper diced, about one small bell pepper
2 T Tomato Paste
1 1/2 tsp Ground Cumin
1 tsp Chili Powder
2-3 Chipotle Peppers in Adobo Sauce 3 if you love the spicy** see note - look for gluten free if needed.
1/2 tsp Fine Sea Salt
1/2 C (112g) Water
1/2 Lime juiced
12 6" (15cm) Tortillas flour or corn or a blend*** see note
3 C (230g) Monterrey Jack Cheese or Pepper Jack grated
Toppings (optional):
Chili-Lime Pepita Crema
Mexican Chipotle Salsa
Sour Cream
Avocados
Cilantro
Black Olives
Jalapeno