Garlic Roasted Asparagus and Mushrooms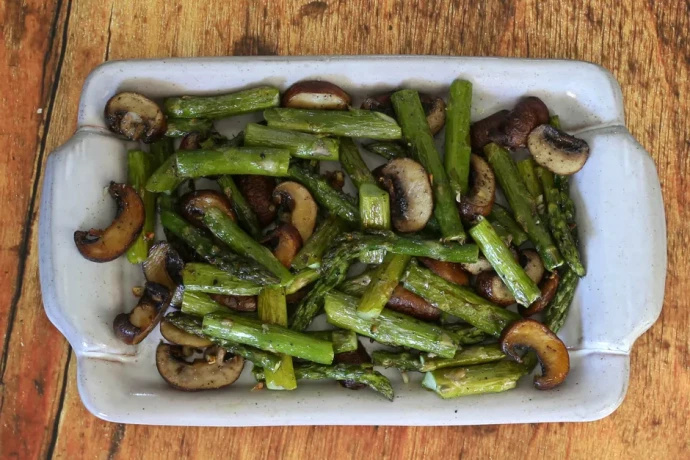 Delicious, green, and firm asparagus are a delightful side to any meal and make a great addition to salads, stews, or soups. Great in omelets and frittatas, asparagus adds texture and plenty of flavor to all sorts of dishes. Even eaten on their own with a squeeze of lime, these spears are are simply wonderful. Our quick recipe for an asparagus and mushroom side highlights the freshness of the vegetable and the meaty texture of the mushrooms, all bound together by a touch of pungent garlic and a pinch of salt and pepper.
Asparagus is a seasonal vegetable that is usually found in supermarkets between February and June, with April being the best month to find the greenest and most flavorful spears. Thanks to the massive importation of asparagus from China and Peru, it is easier to have asparagus at any time during the year, although plenty of frozen options exist when no fresh asparagus is found. Of course, if you have a choice always go for fresh, firm, and smooth-to-the-touch spears with closed tips. A great source of folic acid, asparagus also has great levels of potassium and vitamins A, B6, and C. A cup of asparagus, 134 grams, has barely 27 calories, 3 grams of protein, 3 grams of fiber, and 70 micrograms of folate, an outstanding value considering the recommended intake of folate for most adults is 400 micrograms a day.1
We recommend using white button or a wild mushroom assortment if you can find it. If the mushrooms are small, leave them whole for a beautiful look. This is a great side to steak, pork, or chicken and stands up well as a light main when served with poached eggs on top, a few slices of prosciutto on the side, and a good chunk of crusty warm bread.
Ingredients:
1 pound asparagus
8 ounces mushrooms, sliced
3 tablespoons extra-virgin olive oil
3 cloves garlic, minced
Kosher salt, to taste
Ground black pepper, to taste