Mapo Tofu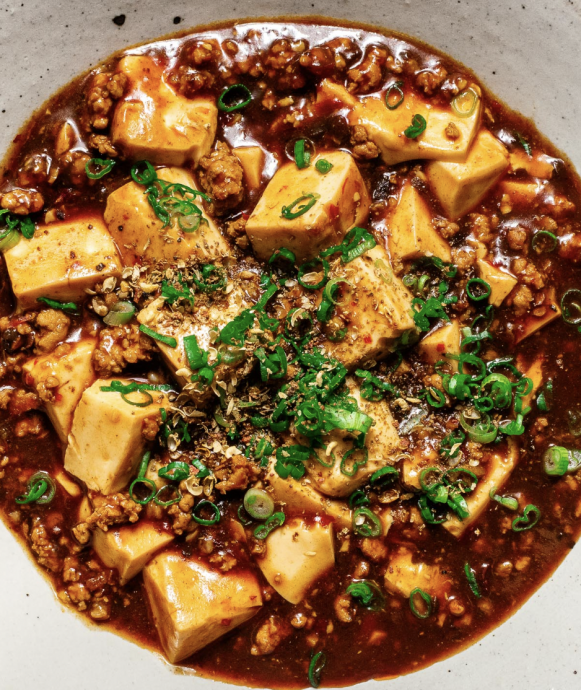 Authentic mapo tofu at home is easier than you think: soft silken tofu in a spicy Sichuan chili pork sauce can be yours in under 30 minutes.
Mapo tofu is a famous Sichuan tofu dish that has plenty of mala, the signature numbing spiciness of good Sichuan food. If you haven't had Sichuan food before, you might be scared of it's fire-y red color, but once you get past that fear of heat, you'll be coming back for more, more, more.
Mapo tofu tastes spicy: both conventionally spicy with heat on your tongue, and málà, a numbing kind of spicy that is characteristic of Sichuan food. The sauce is pleasingly oily, which ampliflies the spiciness and flavor. It also has a deeply savoriness to it thanks to the umami from the doubanjiang. Also key is the texture play mapo tofu has going on: the silky creaminess from the soft tofu coats your tongue and the crispy-ish bits of pork add a pleasing contrast to the overall softness and sauciness of the dish.
If you love tofu and you love spicy, you're going to love mapo tofu too. And, if you're not so big on spicy, the good thing about this dish is that you can adjust the spiciness level by altering how big of a pinch of Sichuan pepper you finish it with.
Ingredients:
14 oz soft tofu 1 block
1 tbsp oil
1/4 lb ground pork
1.5 tbsp doubanjiang chopped
2 cloves garlic minced
2 tsp ginger grated or finely chopped
1 cup chicken stock sodium free/unsalted preferred
1 tbsp soy sauce
1 tbsp cornstarch whisked into 2 tbsp water
1/2 tsp ground sichuan pepper or to taste
green onions thinly sliced, to finish