Spring Thaw Smoothie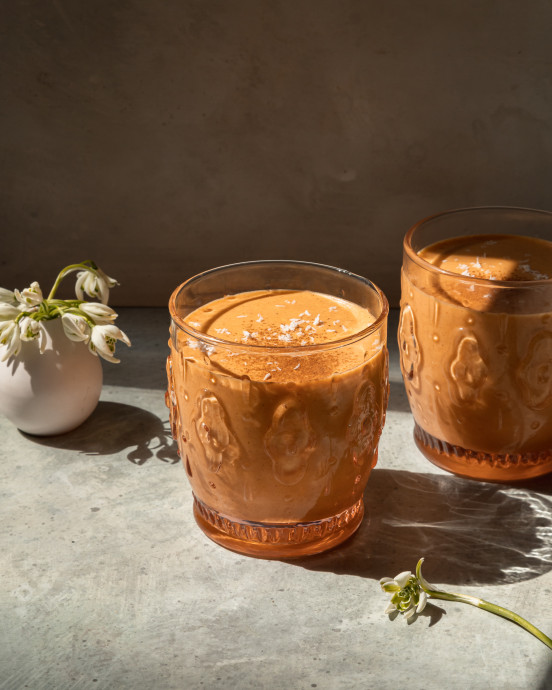 This Spring Thaw Smoothie is the perfect way to welcome sunnier days. Carrots, citrus, and frozen banana combine with warm spices, nut butter, and non-dairy yogurt for a hearty and unusual vegan breakfast smoothie.
Something about the acidity of orange and lemon combining with the sweetness of the banana, earthiness of the carrot, the warm spices, and creamy peanut/coconut butters and tart non-dairy yogurt. It all just works! It's a great seasonal transition smoothie. Still a bit warm, but definitely bright.
If you aren't doing it already, I really recommend the practice of "seasoning" your smoothies. In this Spring Thaw Smoothie, I add a pinch of sea salt and a squeeze of lemon. The salt and acid lift up all of the other flavours perfectly and help them to almost "sparkle" on the palette. Plus the minerals in sea salt can help with the overall hydration factor of the smoothie.
Ingredients:
½ cup unsweetened non-dairy milk
¼ cup non-dairy plain yogurt (see notes)
1 tablespoon peanut butter
1 tablespoon coconut butter
½ teaspoon lemon juice
¼ teaspoon vanilla extract
½ teaspoon ground cinnamon
¼ teaspoon ground ginger
⅛ teaspoon sea salt
1 small orange, peeled
1 medium carrot, chopped (about ½ cup chopped carrot)
½ banana, preferably frozen