Ultimate Veggie Crunch Sandwich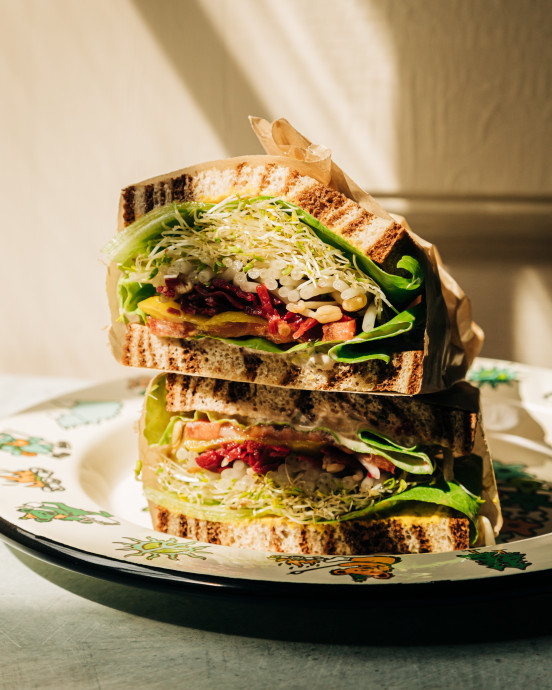 My absolute favourite veggie crunch sandwich! It's super flavourful with both yellow mustard and a homemade vegan thousand island-style dressing, tons of fresh crunchy veggies, sprouts, pickled peppers, and marble rye. So satisfying and ready in 15 minutes!
In terms of steps, this sandwich is pretty typical. We make a vegan Thousand Island-style dressing first. Then I season the sliced tomatoes with salt and pepper and let them sit for a minute. From here, you're just layering and assembling. The bean sprouts provide most of the "crunch" in this veggie crunch sandwich. Once those are laid down, I scrunch up a tangle of broccoli or alfalfa sprouts for the flavour/nutrients, yes, but also for structure! the tangle kind of forms itself around everything else to keep it tidy.
For the leftover Thousand Island-inspired dressing: it's great on veggie burgers and even dolloped on a baked potato with steamed broccoli. I also love dipping slices of cucumber and celery into it when I'm feeling snack-y. I find that the sauce tastes better/more robust if you can make it ahead of time. It's still delicious when you make it right before too.
Ingredients:
Thousand Island-Inspired Dressing (makes extra)
½ cup vegan mayonnaise
2 tablespoons finely chopped sweet onion
2 tablespoons finely chopped dill pickle
2 tablespoons ketchup
½ teaspoon lemon juice
¼ teaspoon white wine vinegar
sea salt and ground black pepper, to taste
Veggie Crunch Sandwich
1 medium hot house tomato, sliced
sea salt and ground black pepper, to taste
4 slices marble rye bread, from a round/oval loaf
2 tablespoons yellow mustard
4 large leaves butter/Boston lettuce
8-10 slices sweet onion
4-5 pepperoncini peppers, stems removed and cut into strips
4 tablespoons sauerkraut
2 handfuls bean sprouts
2 handfuls broccoli sprouts or alfalfa sprouts