Grilled Shrimp Packets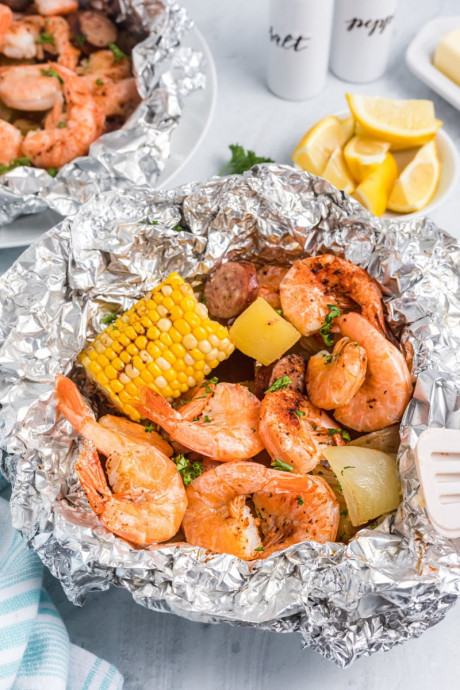 These Grilled Shrimp Packets are fun to make during the warmer months when you don't want to heat up your kitchen and would rather use the grill.
This is my favorite sort of dinner to make because it's a complete dinner made all at once. Your protein, vegetable and side dish is all in one foil packet! You can assemble it all, throw it on the grill and you don't have to do anything else except open a bottle of wine. It's so easy!
The full, printable recipe is at the end of this post.
Preheat your grill to medium-high heat. Cut the heavy-duty foil into six 20-inch lengths. Make 6 foil packets. Be sure to make the packets big enough to encompass all of the ingredients, about 5×7-inches on the bottom, with enough extra foil at the top to fold over a few times.
Divide the ingredients onto each foil sheet in this order: potatoes, onions, sausage, corn and shrimp. Between the layers, lightly sprinkle Cajun seasoning and a bit of garlic powder. Cup the sides of the foil so that the liquid will not escape and add ¼ cup of the beer (or chicken broth) to each packet. Accordion fold the excess foil at the top, then fold in the sides to prevent leakage.
Ingredients:
3 pounds Yukon Gold potatoes, unpeeled and cut into ¾-inch chunks
2 small yellow onions, each cut into 6 wedges
18 ounces smoked sausage, cut into 1-inch rounds
3 ears fresh corn, husked and broken into halves
3 pounds fresh or thawed frozen shrimp, unpeeled
cajun seasoning
garlic powder
One 12-ounce bottle of beer (or 1½ cups chicken broth or water)
large-sized heavy duty aluminum foil