Kale and Cabbage Slaw With Mustard Vinaigrette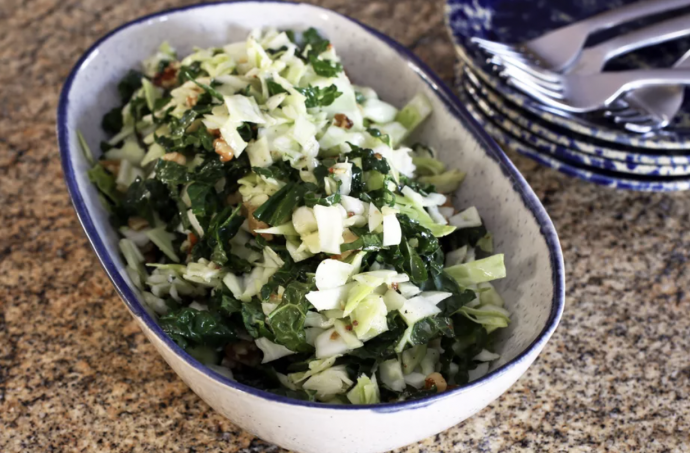 This kale and cabbage slaw is a great way to incorporate nutritious kale into your diet, and besides being nutritious and delicious, it's low carb. The dressing is a light and easy dressing made with grainy Dijon mustard, some olive oil, and white wine or white balsamic vinegar. I add garlic to the dressing, but that could be left out.
Add some chopped walnuts, pecans, or sliced or slivered almonds to give it some protein and extra crunch. I included instructions for toasting, but it's optional. If you prefer a mayonnaise-based dressing, toss the kale, cabbage, and walnuts with the mayonnaise dressing from our creamy coleslaw.
This simple salad is excellent with any roasted or sauteed meat, fish, or poultry. Liven up your fish tacos, burgers, or pulled pork sandwiches with some of this tasty slaw. The possibilities are endless.
Ingredients
For the Salad:
4 to 6 medium leaves kale, preferably lacinato
1/2 medium head green cabbage
1/4 cup walnuts, pecans, or slivered or sliced almonds
Kosher salt, to taste
Freshly ground black pepper, to taste
For the Dijon Mustard Dressing:
2 teaspoons grainy Dijon mustard, or more, to taste
1 clove garlic, minced
3 tablespoons white balsamic vinegar, or white wine vinegar
1/3 cup extra-virgin olive oil