Pineapple Pork Tenderloin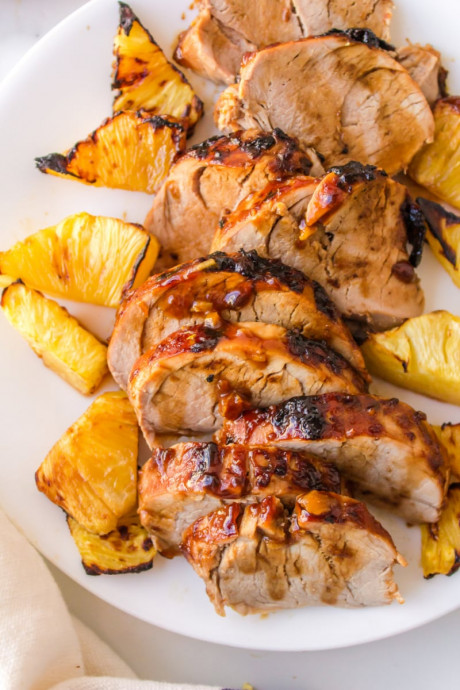 Pineapple provides the perfect complement to pork in this Pineapple Pork Tenderloin recipe.
Halve pineapple slices; arrange on a platter with the sliced pork. I find that it's easiest to grate ginger when it's frozen. Cut the peel off using a potato peeler, and place it in the freezer for about 15 minutes or so before grating. When you're finished, you can put the remaining fresh ginger piece in a zip bag and keep in the freezer for future use. It keeps just fine in the freezer.
Lightly glazed pork tenderloin is served with a sweet and ginger-scented Asian sauce and the broiled slices of pineapple. A bit of pork with a bite of pineapple is delicious! My family loves this for a quick and easy dinner.Pork tenderloin can be grilled instead of broiled. There won't be pan juices, but since there will be a sauce then you don't need to worry so much about pan juices. Pineapple is wonderful when singed on the grill too.
Ingredients
Pork
3 tablespoons hoisin sauce
2 teaspoons grated, peeled fresh ginger
1 medium garlic clove, minced
1 teaspoon Dijon mustard
1½ pounds pork tenderloin, trimmed
coarse salt and freshly ground black pepper, to taste
Sauce
2 tablespoons hoisin sauce
2 tablespoons pineapple juice
2 teaspoons grated, peeled fresh ginger
1 teaspoon soy sauce
salt and freshly ground black pepper, to taste