Sheet Pan Roasted Root Vegetable Bowls With Mediterranean Dressing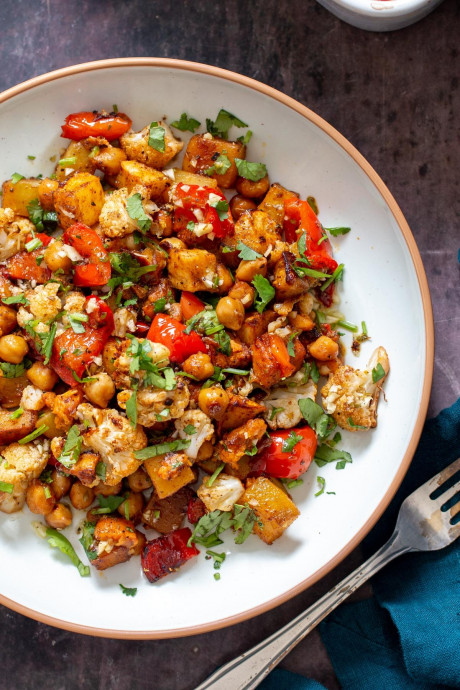 These sheet pan roasted root vegetable bowls feature shawarma spiced sweet caramelized root veggies like golden beets and parsnips topped with a zesty Mediterranean lemon dressing! Make them ahead of time for meal prep or serve an easy one-pan dinner! Soyfree Nutfree , Naturally gluten-free.
These roasted root veggie bowls make root vegetables shine! They are loaded with sweet and smoky flavors and exciting textures. Exactly the kind of healthy, balanced veggie-forward meal I love to make a big batch of. Because guess what, leftovers taste great the next day making this Mediterranean sheet pan dinner amazing for meal prep.
For this healthy one-pan / sheet pan dinner we roast root veggies, chickpeas, cauliflower, bell pepper and butternut squash along with some balsamic vinegar, maple syrup, olive oil, and a herby spice blend.
While baking, we mix together a zesty refreshing Mediterranean dressing and pour it all over the roasted veggies. I like doing that while the veggies are still warm. Those thirsty roasted root veggies will go ahead absorb all of that lemony goodness right away. But you can also mix veggies and dressing the next day, if you're meal prepping.
Ingredients:
For the roasted veggies and chickpeas:
3 teaspoons oil divided
1 cup (136 g) cubed golden beet
1 cup (133 g) cubed parsnip or other vegetables such as turnip or carrots or sweet potato
1 cup (100 g) chopped cauliflower
1 red bell pepper chopped into 1/2-3/4 inch
1 cup (140 g) cubed butternut squash
15 ounce (425 g) can of chickpeas or 1 1/2 cups cooked chickpeas
1/2 teaspoon oregano
1/2 teaspoon black pepper
1/2 teaspoon salt
3-4 teaspoons Shawarma spice blend
1 teaspoon balsamic vinegar
1 teaspoon maple syrup
2 cloves garlic minced
For the Mediterranean dressing:
2 tablespoons lemon juice
1.5 tablespoons extra virgin olive oil
1/4 teaspoons salt
1/2 teaspoon oregano
1/4 teaspoon black pepper
2 cloves of garlic minced
1 teaspoon maple syrup