Spring Lettuce Salad with Roasted Asparagus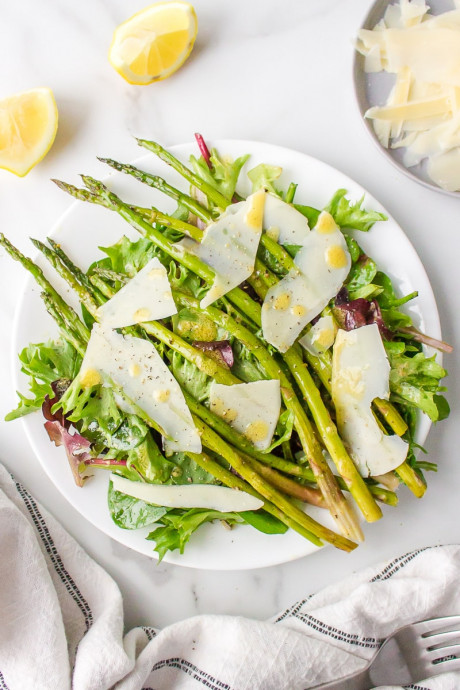 When it's spring and asparagus are everywhere and affordable, this Spring Lettuce Salad with Roasted Asparagus is the salad to try!
It's time to try a new salad recipe! This salad is dressed simply with lemon juice, olive oil and Dijon mustard. Roasted asparagus bring a wonderful flavor element into the salad. And the addition of Parmesan cheese really finished it off well.
There are some different ways you could go about plating this salad. It does look awfully pretty with long, roasted asparagus. But if you're more practical, you may wish to cut the asparagus into smaller lengths and arrange them on your salad that way. I also really love the way the shaved Parmesan looks on the salad, but you can certainly sprinkle shredded Parmesan cheese on the salad instead. This salad would be delicious with a few roasted pine nuts sprinkled on top too.
Ingredients:
1 pound asparagus
⅓ cup + 1 tablespoon extra virgin olive oil
½ teaspoon finely grated lemon zest
kosher salt and freshly ground black pepper
1½ tablespoons freshly squeezed lemon juice
1 tablespoon Dijon mustard
10 ounces mixed greens
Parmigiano-Reggiano cheese, shaved into curls with a vegetable peeler