Baked Chana Saag (Vegan spinach chickpea curry)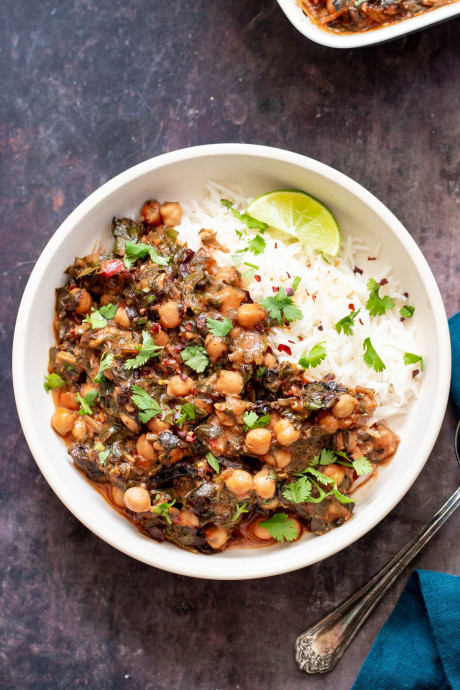 Try this easy Vegan Baked Chana Saag recipe! A fragrant Spinach and Chickpea Curry cooked in one casserole dish along with onion, tomatoes & warming spices. Such a comforting meal served with rice or any bread of your choice. Gluten-free Soyfree Nutfree.
Today we are cooking a baked version of this Indian classic. Chana Saag – an aromatic and perfectly spiced chickpea spinach/greens curry made in the oven!
We are taking a classic Indian curry normally made on the stovetop using chickpeas, spinach or greens, onion, tomato, ginger, garlic, and warm spices and turn it into an easy 1-dish casserole recipe. Making this in the oven means no standing around!
This is a great recipe you can make whenever you need to use up greens! Spinach is a quintessential ingredient, but other than that you can add any leafy greens you have in your fridge. Think chard or mustard greens.
You will love how easy this is to make and the recipe is totally adaptable to your taste. Served with warm bread or steamed basmati rice this really makes for a perfect weeknight meal.
Ingredients:
2 teaspoons oil
1/2 teaspoon cumin seeds
1/8 teaspoons fenugreek seeds (or use 1/2 teaspoon dried fenugreek leaves and add with onion)
1 clove optional
1 or 2 bay leaves
1 dried red chili broken or use 1/4 teaspoon pepper flakes
3/4 cup (120 g) finely chopped onion
3 cloves garlic minced
1/2 inch ginger minced
2 teaspoons ground coriander
1/2 teaspoon ground cardamom
1/4 teaspoon ground cinnamon
1/4 teaspoon ground black pepper
4 ounces (113 g) frozen spinach or chopped (defrost if using frozen)
4 ounces (113 g) chopped greens such as fresh chard ,mustard greens or other baby greens, or use more spinach
8 ounce (226 g) tomato puree (or unseasoned tomato sauce )
15 oz (425 g) can coconut milk full fat or light or other non-dairy milk of choice , thicker cashew milk or oat milk work well
15- ounce (425 g) can chickpeas drained or 1.5 cups cooked
1/2 teaspoon salt
pepper flakes, lemon juice, and cilantro for garnish