Small Batch Black Bottom Banana Bread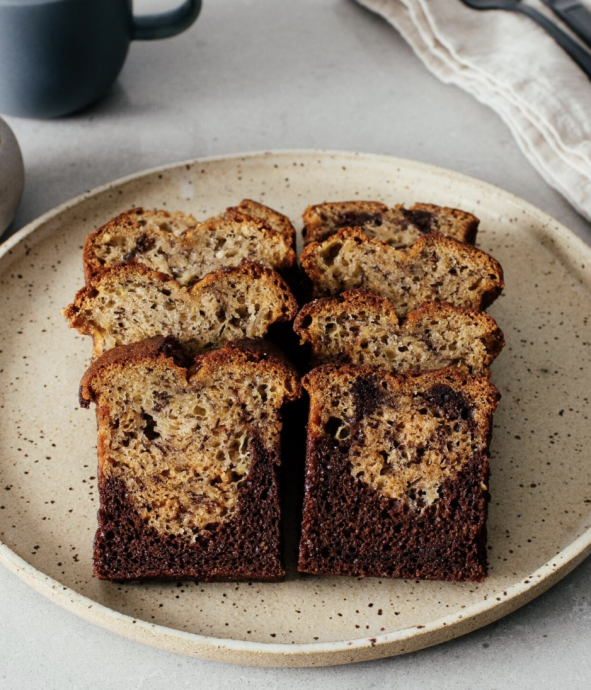 Two cakes in one! A rich and dark chocolate-y bottom with a banana bread top, all in a mini small batch loaf. Black bottom banana bread is a take on a black bottomed banana bar or black bottom banana cake. That is, it's a chocolate cake on the bottom with a banana bread/cake on top. Black bottom, in baking, is when something has a chocolate base. It can be a chocolate crust for a pie or a brownie base for a bar cookie, or just about anything. A black bottom adds a secret layer of chocolatey richness and deliciousness.
The bottom of this black bottom banana bread is a riff off of wacky cake, a cocoa based cake that happens to be vegan! Wacky cake was invented during WWII because of rationing but it's around today still because it tastes darn good. It's moist and surprisingly rich for such simple ingredients. I have a recipe for a small batch chocolate loaf if you're looking for something that doesn't have eggs, milk, or butter!
On top of the wacky cake I went with my all time favorite banana bread recipe from Flour Bakery. It turns out perfectly every single time and has just the right amount of banana-y flavor and a super light and fluffy texture that pairs perfectly with the chocolate base.
Black bottom banana bread tastes like two of your favorite quick breads in one which makes it all the more special to me.
Ingredients:
Chocolate Layer
6 tbsp all purpose flour 45 grams
1/4 cup sugar 54 grams
1 tbsp + 1 tsp cocoa powder 9 grams
1/8 tsp baking soda
pinch of salt
1/4 cup cold water
1 tbsp canola oil or other flavorless oil
3/4 tsp white vinegar
1/2 tsp vanilla extract scant
Banana Layer
1/4 cup plus 2 tablespoons + 2 teaspoons all purpose flour 52.5 grams
1/4 tsp baking soda
1/8 tsp salt
pinch of cinnamon
1/4 cup plus 1.5 tsp sugar 57.5 grams
1/2 large egg whisk a large egg and weight out 26-28 grams or measure out 1.5 tablespoons
2 tbsp canola oil or other flavorless oil
1 very ripe banana about 6 tbsp or 85 grams
1.5 tsp sour cream or greek yogurt
1/4 tsp vanilla extract