Vegan Pizza Bowl with Quinoa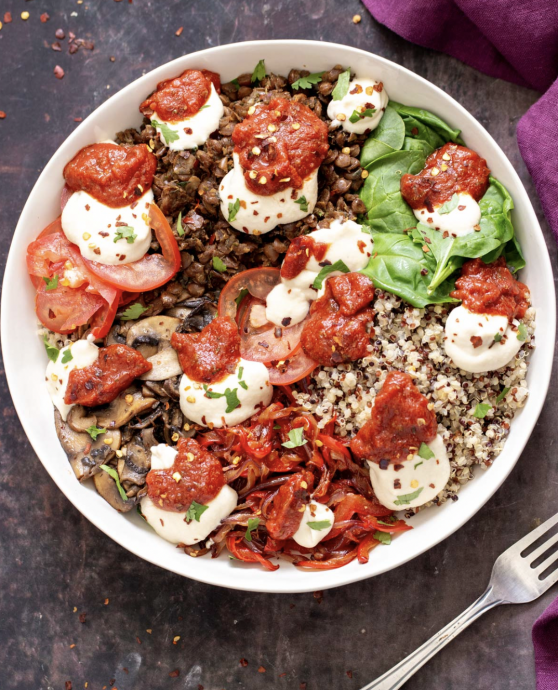 Try this fun easy meal prep recipe for Vegan Pizza Bowl with Quinoa, protein-packed Vegan Lentil Sausage Meat, fresh basil, roasted veggies, pizza sauce , cashew mozzarella sauce and healthy leafy greens. Gluten-free & soy-free option.
These Pizza Bowls are the ideal meal prep lunch for pizza lovers. Savory lentil sausage mix, fluffy quinoa, pan-roasted bell peppers and mushrooms, greens, fresh basil , chopped fresh tomatoes,and big old dollops of pizza sauce and homemade cashew mozzarella sauce. This is the lunch bowl of my dreams and if you like all things tomato and cheese, you will be all over it.
You can make all the components ahead and refrigerate. Then put them together as you like!l. Make bowls, wraps, make a proper pizza, or add to pasta. You can mix and match! Use just the lentil sausage mix with pizza sauce for the pasta topped with some shredded vegan parm. Make quesadillas with the mushroom, peppers and cashew mozzarella and wraps with quinoa,basil, lentil mixture, any any of the roasted veggies. Don't forget to add some pizza sauce in the wrap!
Ingredients:
For the lentil sausage mixture:
15 ounce can of lentils washed and drained or 1 1/2 cups of cooked lentils
1 tablespoon soy sauce , use tamari for Glutenfree, coconut aminos for soyfree
1 tablespoon maple syrup
1/2 teaspoon crushed fennel seeds
1/2 teaspoon onion powder
1/2 teaspoon garlic powder
1 teaspoon smoked paprika
1/2 teaspoon ground sage
1/2 teaspoon dried thyme
1/4 teaspoon black pepper
1/2 teaspoon cayenne
1/2 teaspoon salt
For the cashew mozzarella sauce:
1/2 cup raw cashews soaked in hot water for 15 minutes
1/2 cup water
1 teaspoon extra virgin olive oil
1/2 teaspoon garlic powder
1/4 teaspoon onion powder
1 teaspoon lemon juice
1/2 teaspoon salt
1/2 teaspoon basil
1/2 teaspoon mellow miso or 2 teaspoon nutritional yeast optional
For the other ingredients in the pizza bowl:
1 red bell pepper thinly sliced
1/2 cup thinly sliced onion
1 cup of thinly sliced mushrooms
salt and pepper as needed
oil as needed for roasting the peppers and mushrooms
2 cups or more of crisp greens or spinach
chopped tomato as needed
1/4 cup fresh basil
1/2 cup of uncooked quinoa or 1 1/4 cup of cooked quinoa or other grains of choice
1/2 cup of pizza sauce (see notes for diy pizza sauce)