Rum & raisin fudgy brownies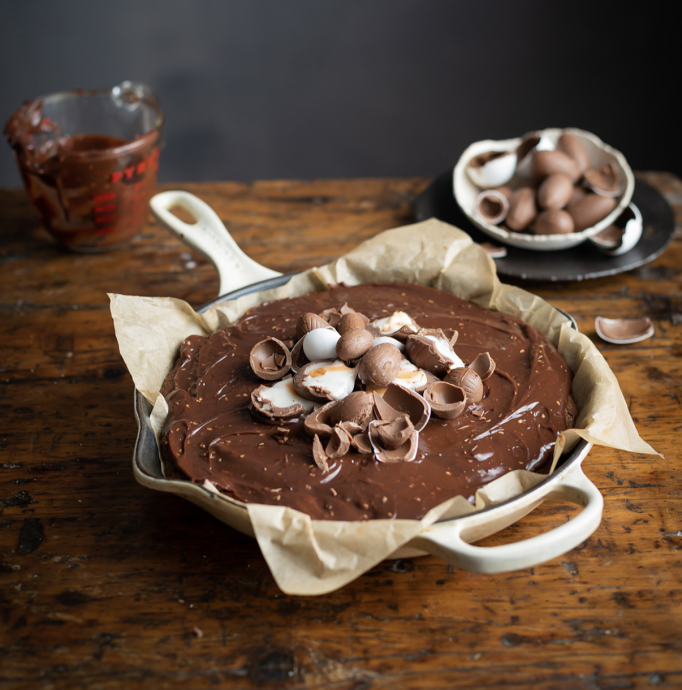 Rum-soaked raisins add a delicious boozy dimension to these dense chocolate brownies. I've taken my all-time favourite brownie recipe and given them this fruity twist. Leave them out if you prefer a more classic profile. The chocolate ganache adds a glossy top which takes it to the next level.
I've added a pile of crushed chocolate eggs to make this a decadent Easter treat, but decorate however you like. You can choose to bake these in a standard 20cm x 20cm baking tin or a lined cast iron skillet. Make sure you don't over bake them as a fudge centre is what brownies are all about.
The chocolate ganache will thicken as it cools and eventually will set. I used 70% chocolate that had sesame seeds in which is the reason you will see these specks in the image. This was a happy accident, but you could play around using flavoured chocolate.
Ingredients:
½ cup raisin
¼ cup dark rum
1 Tbsp brown sugar
200 g butter, room temperature
200 g quality dark chocolate (70% cocoa)
250gm granulated or caster sugar
3 large free-range eggs
5ml/ 1 tsp vanilla extract
125gm cake flour
5ml/ 1 tsp baking powder
Chocolate ganache:
100gms dark chocolate (at least 70% chocolate solids)
50gms milk chocolate
½ cup cream
2 tsp butter
2 tsp strong coffee (optional)
1 – 2 tsp dark rum (optional)
Sprinkle of sea salt flakes (optional)