Stuffed Blue Cheese Volcano Burgers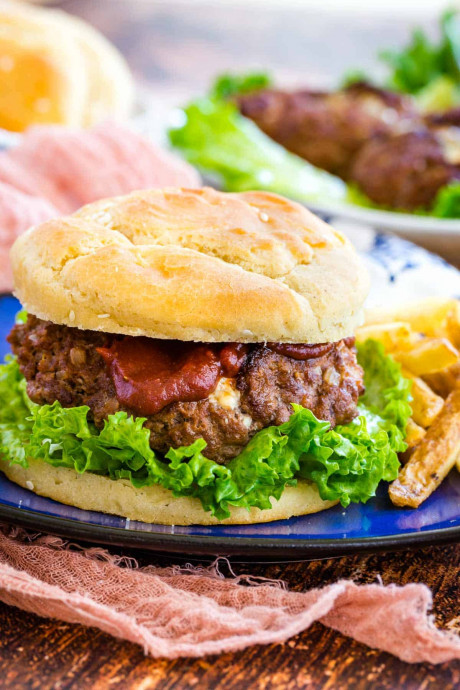 Mouthwatering and savory Stuffed Blue Cheese Burgers will take your burger game to the next level. These volcano burgers are made with flavorful lean ground beef and are just oozing with cheese. No need to wait for grilling season because they cook up perfectly in the broiler or air fryer!
These burgers are made with lean ground beef and flavored with my homemade Worcestershire Ketchup for a serious burst of umami goodness. Then they are packed full of blue cheese and cooked in the oven or air fryer (I'll give you tips for grilling, too) until they are molten. Top them with more of the savory ketchup, and it gives an amazing, intense steakhouse flavor in one awesome patty.
Best Burger Toppings
More veggies. Try raw or caramelized onions, pickles, or even the peppery bite of arugula.
Bacon. Cooked bacon or even bacon jam would add an amazing salty, smoky flavor.
More cheese. Add extra blue cheese on top, try some melty cheddar or Monterey Jack, or give it a grizzle of Greek Yogurt Blue Cheese Dressing.
Something creamy. A flavored aioli, Big Mac Sauce, or some Avocado Crema is a rich addition.
Ingredients:
1 teaspoon olive oil
1 small shallot, minced or 1/4 cup minced red onion
1 teaspoon kosher salt
1/4 teaspoon pepper
1 1/4 lb lean ground beef
1/4 cup Worcestershire Ketchup (see below) or 3 Tablespoons tomato paste or ketchup plus 1 Tablespoon Worcestershire sauice
1 cup crumbled blue cheese (about 4 oz.)
Buns, lettuce, tomato, additional Worcestershire Ketchup for serving
For the Worcestershire Ketchup:
6 oz. tomato paste
1/2 cup Worcestershire Sauce
1/2 teaspoon kosher salt
1/2 teaspoon dried thyme
1/2 teaspoon dry mustard
1/8 teaspoon black pepper