Hummus Quesadillas With Avocado And Tomatoes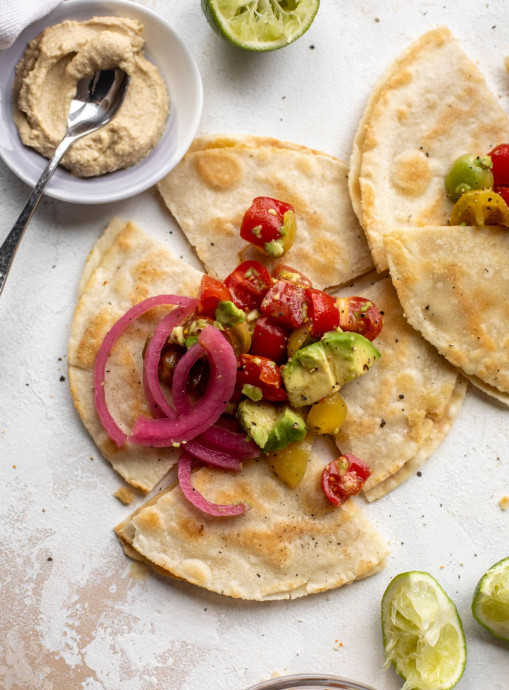 We love these hummus quesadillas! Crispy, golden tortilla shells filled with smooth and creamy hummus. Top with a quick avocado tomato salad and your family will go crazy for them!
This is just about the simplest meal you can find this Monday! Crispy, golden tortillas filled with warm creamy hummus. Flavor of your choice, of course!
Then top it all off with a tomato avocado salad. The best part is that you can use any hummus! You could even use the chocolate hummus that is out now and make a dessert version. Our current favorite hummus is the Ithaca hummus – it's incredible. All the flavors are super delicious and it is so creamy. So I love how customizable these quesadillas can be. Use whatever you love!
Ingredients:
4 tortillas, flour, corn, whatever you choose!
½ cup hummus, or more if desired
olive oil spray or butter for toasting
1 avocado, chopped
1 handful cherry tomatoes, chopped
1 drizzle of olive oil
1 lime, juiced
kosher salt and pepper
pickled onions, for serving