Cast Iron Sloppy Joe Casserole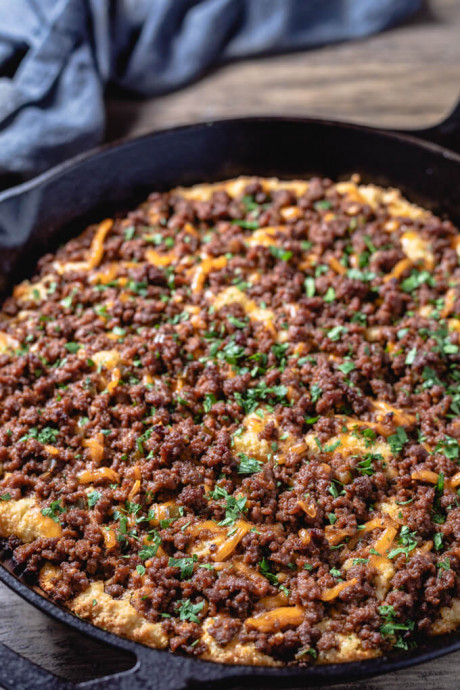 Delicious low carb homemade sloppy Joe filling baked over an easy almond flour "cornbread" crust makes a hearty comfort food casserole. Keto and Glutenfree. This sloppy Joe casserole starts with a mock keto cornbread base, which is made from cheese, eggs, and almond flour. A little sweet corn extract (found on Amazon) gives it an authentic cornbread flavor. The extract is pricy, but it's lasted over a year since I only use it for cornbread.
I have an amazing low carb sloppy Joe recipe that I serve on low carb buns for the adults and regular buns for the kiddos. I flavor it with a little tomato paste, Worcestershire sauce and other common ingredients. Instead of brown sugar, I use Sukrin Gold which is a natural brown sugar alternative. I love to use this sloppy joe recipe for sloppy Joe stuffed peppers. Talk about a great tasting meal!
To make this sloppy Joe filling for this casserole, cook ground beef. Then, saute with onions, garlic, bell pepper and remaining ingredients until the meat absorbs much of the liquid. Let the filling cool while you make the cornbread base. Spread the base into a cast iron skillet. Mix the sloppy Joe filling with cheddar cheese and gently spoon it over the casserole base. Top with more cheddar cheese and bake.
Ingredients:
Sloppy Joe Casserole Filling
1 recipe Homemade Sloppy Joes (or your favorite recipe)
1 cup cheddar cheese (1/2 mixed into filling later and 1/2 for topping)
Low Carb Cornbread Base
1 cup part skim mozzarella shredded cheese
2 cups almond flour (fluff up with whisk before measuring)
2 oz cream cheese, softened
3 large eggs
1 tbsp baking powder
1/4 tsp Amoretti Sweet Corn Extract