Pickle panzanella Salad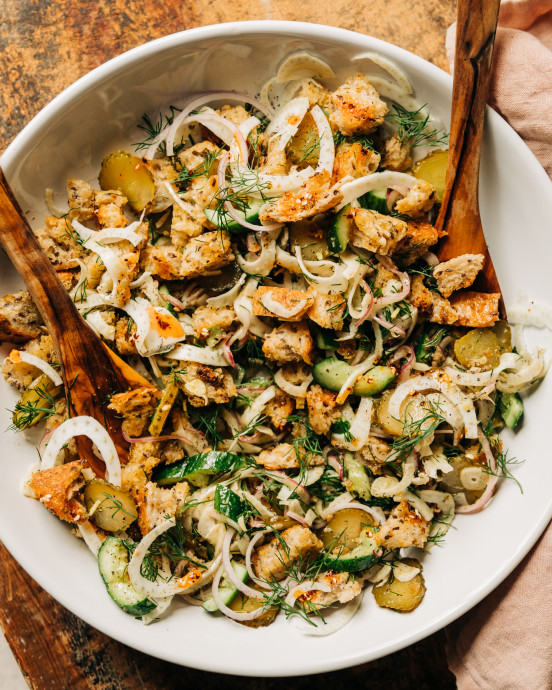 This pickle panzanella is a fun, refreshing, and delicious twist on the classic Italian bread salad. Ready in under 30 minutes and loaded with fresh vegetables like cucumber, red onion, and thinly shaved fennel. This is an amazing BBQ side salad for all the pickle enthusiasts in your life!
If it's dill pickle-flavoured and consists of 50% bread, I am in! This pickle panzanella is so fun to make. It's also perfect for backyard BBQ parties or other warm weather get-togethers. I love an alternative, seasonally-appropriate panzanella, and it's been awhile since I shared one. Let's get to it!
Ingredients:
Dressing
2 tablespoons pickle brine
1 tablespoon white wine vinegar
1 small garlic clove, finely grated/minced
½ teaspoon dijon mustard
½ teaspoon maple syrup or agave nectar
½ teaspoon vegan Worcestershire sauce
sea salt and ground black pepper, to taste
⅓ cup + 1 tablespoon olive oil
Pickle Panzanella Salad
4-5 cups torn bread pieces, about 2-inches per piece
2 tablespoons olive oil
1 teaspoon white wine vinegar
1 tablespoon nutritional yeast
½ teaspoon garlic powder
½ teaspoon onion powder
½ teaspoon dried dill weed
sea salt and ground black pepper, to taste
1 small fennel bulb, cored and shaved thin
½ small red onion, shaved thin
2 mini cucumbers, chopped
3 large dill pickles, chopped
⅓ cup chopped fresh dill