Ham & Smoked Mozzarella Hasselback Chicken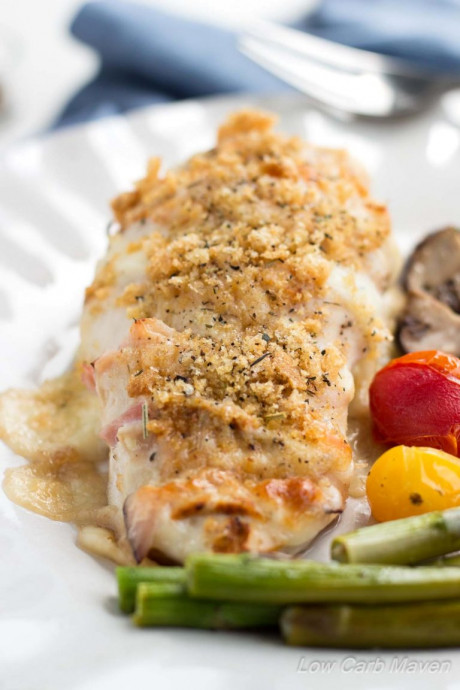 This ham & smoked mozzarella hasselback chicken is so full of flavor you won't believe it. Because it's a sheet pan dinner, it's also fast and easy! This fantastic tasting dinner is perfect for any low-carb diet, but was designed specifically with Atkins in mind.
Choosing a Low carb life style is a great way to help me to stay healthy and eat clean. Unfortunately, low carb diets have endured their fair amount of diet bashing, being mislabeled as "meat and cheese diets". Luckily as more research on low carb eating comes to light, people are beginning to embrace reducing their sugar intake and watching their carbs, as well as adding more healthy fats to their meals. I have honestly never eaten more vegetables and whole foods in my life before starting Atkins 7 years ago. Instead of being restrictive, I find low carb eating on Atkins (or any low carb eating plan) an easily sustainable lifestyle choice!
Ingredients:
1 pound skinless-boneless chicken breast fillets (4) (16 oz/ 454 g)
salt and pepper
3 ounces deli ham, sliced into strips (85 g)
4 ounces smoked mozzarella cheese, 2 oz sliced thinly and 2 oz grated (113 g)
4 teaspoons chipotle mustard or Dijon mustard (20 ml)
1/4 cup pork rinds crushed, (1/4 oz/ 7 g)
1 teaspoon Garlic And Herb Seasoning Blend, or your favorite (5 ml)
Roasted Marinated Vegetables
8 ounces mushrooms, quartered or sliced (227 g)
8 ounces asparagus trimmed, (227 g)
8 ounces whole cherry or grape tomatoes (227 g)
2 tablespoons olive oil (30 ml)
1 tablespoon red wine vinegar (15 ml)
1 clove garlic, minced (5 g)
1/4 teaspoon salt
1/8 teaspoon pepper