Cheesy baked gnocchi with creamy tomato & spinach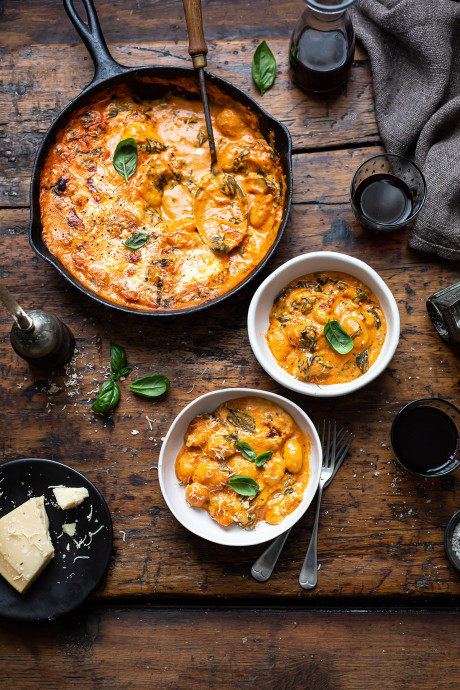 My cheesy baked gnocchi with a creamy tomato sauce and spinach makes a quick and easy midweek vegetarian meal. There is very little hands-on cooking as this bakes in the oven until bubbling and golden.
I'm just over here adding spinach to every dish I can think of, especially if it's a creamy tomato sauce. This is also the first gnocchi recipe I've ever posted on my blog. To be honest I have always been quite fussy about gnocchi and if I'm not making my own or getting it in a good Italian restaurant, I'm not eating it. It's dreadful when it's too hard and or stodgy and it's absolute heaven when it's light and fluffy.
With this recipe for cheesy baked gnocchi with creamy tomato sauce and spinach, I've used good store-bought gnocchi which I found to be perfectly acceptable in this baked rendition. What's not to love about a bubbling pan of potato dumplings blanketed with cheesy baked goodness? This is so easy and so delicious, it pretty much cooks itself.
Ingredients:
Tomato sauce: (You will only use half to 3/4 of this sauce for this recipe, but freeze the rest. See above details)
2 small 400gm (14 oz) tins of good quality tomatoes
1 small onion, peeled and cut into quarters
30gms butter
Baked Gnocchi:
500gms store-bought Gnocchi or short pasta or ravioli or tortellini)
Half to 3/4 of the above sauce
8 basil leaves finely sliced (or 2 Tbsp basil pesto)
200gms baby spinach leaves (a few extra for garnish)
½ cup cream or crème fraiche
1 ball of fior di latte (fresh mozzarella)
A handful of grated Parmesan (plus more for serving)