Easy apple tart (cake) with raisins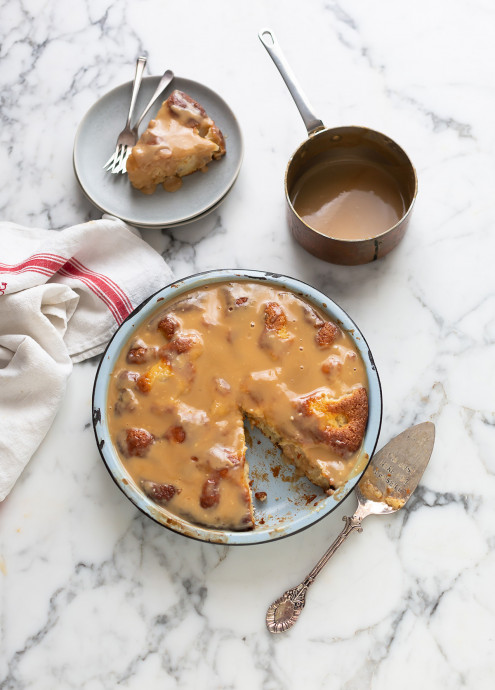 Apple cake is a traditional South African confection and with this recipe, I've added plumped-up raisins for extra deliciousness. The caramel cream sauce soaks into the cake as it comes out of the oven giving it a luscious glossy coating. This cake hovers between tart and cake as so many apples are packed into the batter and this is a quick and easy dessert to whip up in one bowl.
If you don't have pie apple slices, peel, core, and cut 2 large baking apples into 8 wedges and poach in a little water, sugar with a cinnamon stick for 8 – 19 minutes then drain and cool. Traditional recipes call a tin of evapourated milk (Ideal milk) so you could use that instead of cream. I'm sure coconut cream would also be lovely adding a tropical flavour. If you don't have self-raising flour – use cake or all-purpose flour and one teaspoon of baking powder. A more traditional apple cake/tart recipe would normally use white sugar in the sauce, but I like to use brown sugar such as Muscovado or demerara which gives the cake a caramel flavour.
Ingredients:
Cake / tart:
½ cup raisins or sultanas
¾ cup / 175gm sugar
3Tbs / 35gms melted butter
2 large free-range eggs
Pinch of salt
1 cup / 250ml / 170gm self-raising flour
¼ cup / 60ml milk
½ tsp vanilla extract
1 x 385gm pie apple slices (13.5ounces)
Sauce:
½ cup muscovado sugar
250ml / 1 cup cream (or evapourated milk)
1 tsp vanilla extract (or essence)