Greek Lemon Chicken and Rice Gyros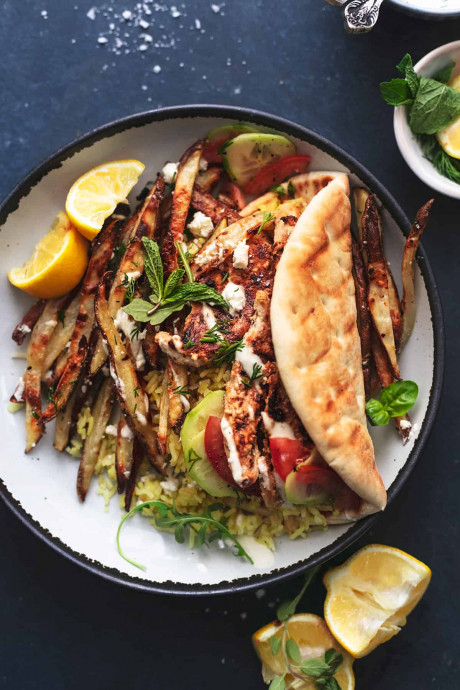 The best, easiest dinner recipe is here: Greek Chicken & Rice Gyros. Layer that fluffy, zesty lemon rice inside a warm pita, top with tender Greek Chicken and other tasty toppings like cucumbers and feta sauce.A Greek restaurant just a couple minutes from our house serves up the most amazing gyros and gyro bowls. I love their traditional lamb-beef gyro meat, but I also discovered they have a delicious lemon chicken option and they give you the option to fill your gyros with lemon rice before you add your protein and I have become obsessed with that Greek lemon rice.
I've started making my own at home and though we usually use it as a base for more of a bowl-style dinner, I think it's really fun to throw it in some warmed pita bread and pile it high with Greek chicken, cucumber salad, and lots of tzatziki or feta sauce. Such an easy and out of the norm dinner option!
Ingredients:
1 batch lemon rice
1 cup tzatziki sauce - or Feta Sauce (see notes)
4 Greek-style pitas - or flatbread or naan
Chicken
1 ½ pounds chicken breasts - cut into 1-inch strips (about 3 medium-large breasts)
½ cup plain full-fat Greek yogurt
⅓ cup olive oil
1 tablespoon garlic
2 teaspoons Herbs de Provence - may sub Italian seasoning
1 teaspoon salt
½ teaspoon cracked black pepper
Cucumber salad
½ cucumber - peeled and sliced
1 tomato - sliced
¼ red onion thinly sliced
fresh lemon juice, salt, and pepper - to taste