Strawberry Burrata Quinoa Salad With Pistachios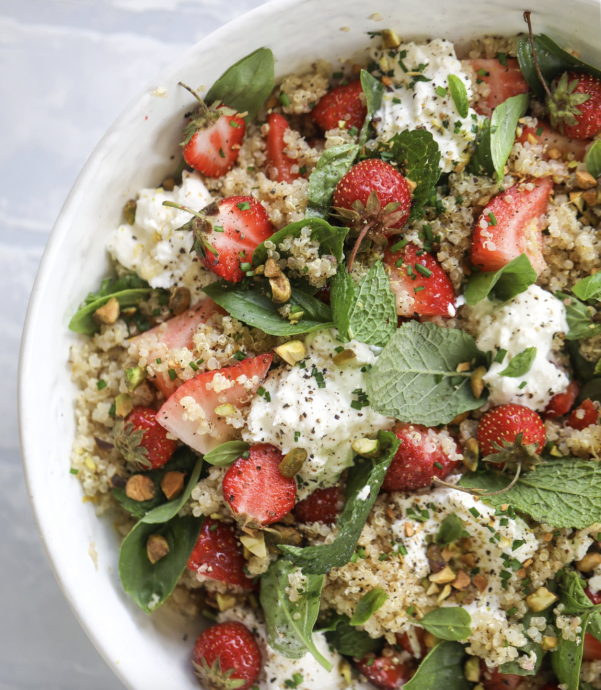 This is flavorful, sweet and seasonal to the point where you'll find yourself craving it in December. It's great for lunch but fantastic for a cookout too! You may find yourself eating the leftovers straight out of the fridge. If you couldn't already tell, right now I'm super into cold salads that can made and enjoyed casually. Like, even if they are a bit trashed up (hello), they still last a day or so in the fridge and they aren't overwhelmingly high-maintenance.
At least I don't think they are high-maintenance. This salad is one where you can swap the grain for whatever you love the most. Or whatever you have in your pantry! You could even use something like jasmine rice or orzo, depending on what's available to you.
Ingredients:
2 1/2 cups cooked quinoa
2 cups strawberries, hulled and sliced
1 teaspoon freshly grated lemon zest
1 ball burrata cheese
¼ cup fresh basil leaves
¼ cup fresh mint leaves
2 to 3 tablespoons fresh herbs, like parsley, chives, etc
freshly cracked black pepper
1/4 cup chopped pistachios (I like roasted +salted pistachios)
Honey lemon vinaigrette
2 tablespoons freshly squeezed lemon juice
1 1/2 tablespoons honey
1 garlic clove, minced
1 pinch salt and pepper
1/3 cup extra virgin olive oil