Nantucket Corn Pudding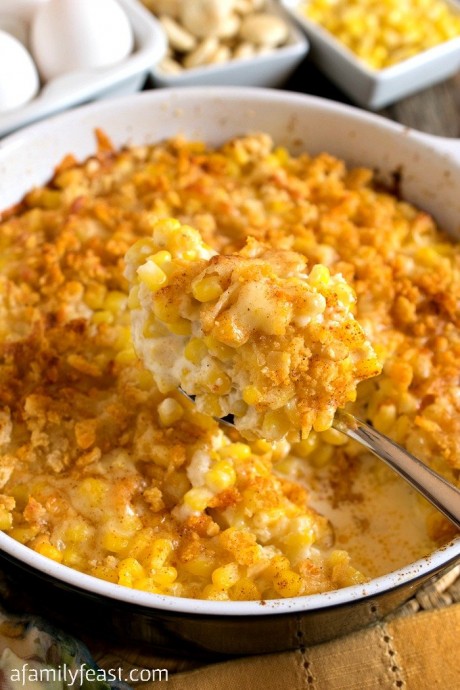 Nantucket Corn Pudding is a must-make recipe for Thanksgiving dinner! Creamy baked corn pudding, topped with buttery, cheesy crumbs.
Nantucket Corn Pudding is a traditional recipe that was popular with the original colonial inhabitants of New England – and today, it's a classic side dish still served at many Thanksgiving dinners around the United States.
There are so many different recipes for corn pudding – and most modern day versions (like today's Nantucket Corn Pudding) use whole corn kernels, rather than a porridge made with ground corn or corn meal. Back in the 17th century, the savory corn meal porridge was called 'Hasty Pudding, and the sweet corn meal porridge was called 'Indian Pudding.'
With the golden and savory, buttery cracker and cheddar topping it is an awesome creamy, flavorful corn pudding. If you can find it, this Nantucket Corn Pudding is best with fresh whole corn kernels cut off the cob. But fresh corn isn't often readily available during the Fall season, so a good quality drained canned sweet corn is a good alternative.
Ingredients:
8–10 ears fresh corn on the cob, or 5 cups canned corn, drained
2 large eggs
1 cup half and half
½ teaspoon kosher salt
1/8 teaspoon white pepper
Few grinds fresh nutmeg
¾ cup crushed oyster crackers, divided (crush the crackers, then measure). Also see note above
3 tablespoons melted butter, divided
½ cup sharp cheddar cheese, shredded
paprika