Peach Pie Bars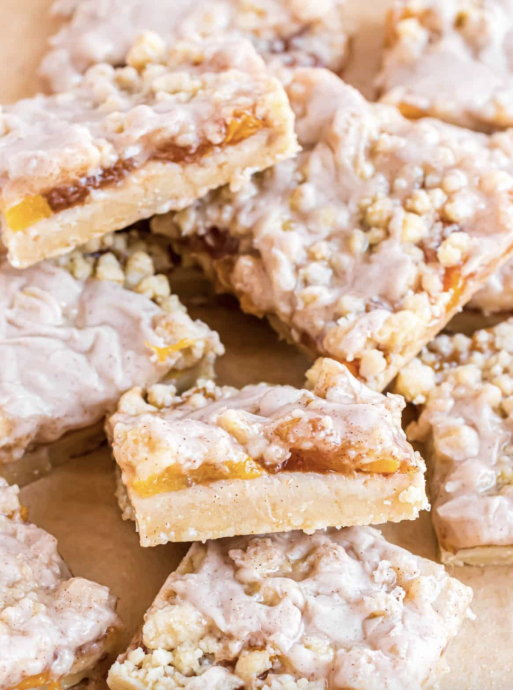 This recipe for Peach Pie Bars is not what it sounds like at first glance. You're not just making a peach pie in a rectangular baking sheet and cutting them into bar form. That would be my apple slab pie.
While that would be tasty, you'd still be going through all the work involved in making a pie crust.
Here, you make a dough that tastes like shortbread cookies but requires zero rolling, folding or trimming. A can of peach pie filling goes on top before baking, then you sprinkle more dough on top (like you would a dutch apple pie).
The result is a delicious peach bar you can eat with your hands!
These bars are so easy to transport and serve, so you can share with friends.
Drizzled with a dreamy cinnamon glaze.
Today's recipe was created using our favorite Strawberry Steusel Bars recipe!
Looking for pie? Check out all our pie recipes and let us know your favorite!
Ingredients:
For the Crust
1 cup unsalted butter, melted
1 cup powdered sugar
2 ¾ cups all-purpose flour
2 teaspoons vanilla extract
For the Filling
1 can (21 ounce) peach pie filling
1 teaspoon cinnamon
For the Glaze
1 cup powdered sugar
½ teaspoon cinnamon
2 Tablespoons milk