Fruit Salad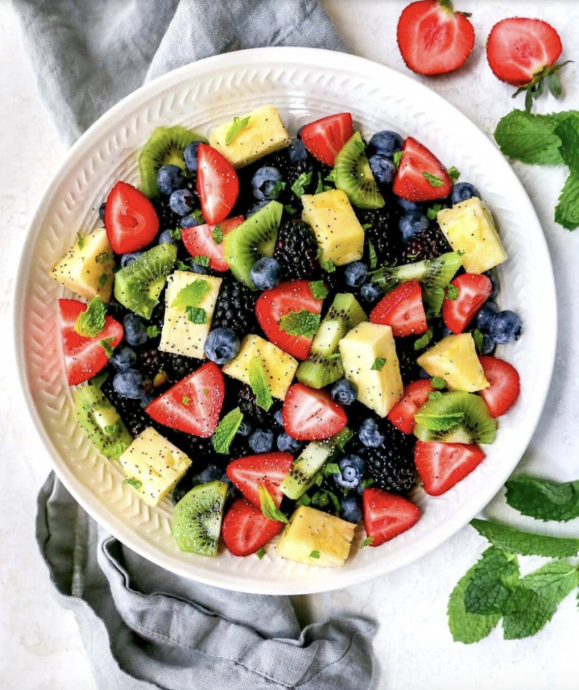 For the Crust This Fruit Salad with Citrus Poppy Seed Dressing is colorful, sweet, and the perfect side dish to any meal. It's refreshing, healthy, and always a crowd pleaser. Feel free to mix up the fruit, depending on what is in season.
Every time I take this Fruit Salad with Citrus Poppy Seed Dressing to a party or potluck it gets rave reviews. It's a simple fruit salad, but the dressing makes it extra special. This salad includes a rainbow of fruits and a sweet honey citrus mint dressing that makes all of the flavors pop. I love this salad because you can swap in your favorite fruits and use whatever fruits are in season.
The colors are beautiful and vibrant, and the flavors are light, fresh, and oh so sweet! This salad can be served as an appetizer, side dish, or dessert at bridal showers, baby showers, parties, potlucks, barbecues, picnics, and more! Everyone loves a colorful and refreshing fruit salad!
Ingredients:
For the salad:
1 large pineapple, peeled and chopped
18 oz blackberries
16 oz strawberries, hulled and sliced
12 oz blueberries
4 kiwi, peeled, sliced and halved
For the dressing:
1 teaspoon orange zest
1 teaspoon lime zest
3 tablespoons orange juice
2 tablespoons lime juice
2 tablespoons honey
1 teaspoon poppy seeds
2 tablespoons chopped fresh mint