Chicken Bacon Ranch Layer Salad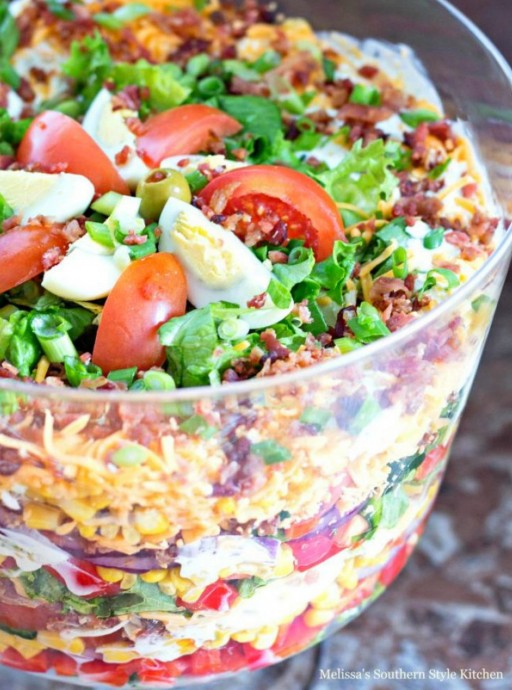 This stunning Chicken Bacon Ranch Layer Salad is a riff on a classic 7 layer salad. It features layers of green leaf lettuce, peppers, corn, tomatoes, onions, cheddar cheese, roast chicken and crumbled bacon. All dressed in a creamy homemade salad dressing. It's not only beautiful to look at but it's a meal all on it's own. In the summer I love serving it at picnics and in the winter with soup and warm garlic bread.
I recommend making a batch of my Avocado Lime Ranch dressing or Garlic & Herb Buttermilk dressing for this salad. Both will make an ample amount for using between the layers plus extra to serve on the side for those who want a bit more. If you're in a hurry, a quality prepared dressing would work on this salad or mix-up a packet of Hidden Valley and serve it for the dressing. This scrumptious salad is sure to be the hit of your next party or picnic.
Ingredients:
9 cups roughly chopped green leaf or romaine lettuce divided
1 large red bell pepper seeded and diced
1 large poblano or green bell pepper seeded and diced
1 12 oz frozen corn steamed and cooled
6 medium tomatoes 5 chopped and 1 sliced into wedges for garnish
1 medium red onion thinly sliced
2 1/2 cup shredded sharp cheddar cheese
1 lb bacon cooked and crumbled
4 cup roasted chicken roughly chopped
3 green onion thinly sliced
2 large hard boiled eggs cut into wedges