Coconut Key Lime Pie Smoothie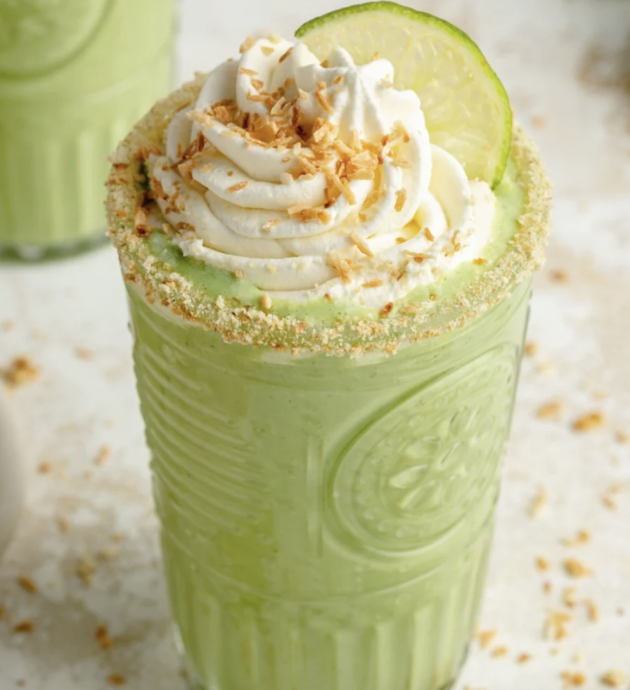 Creamy coconut key lime pie smoothie made with simple ingredients and luscious hints of coconut. This incredible key lime pie smoothie recipe tastes just like a slice of your favorite dessert but is packed with protein and a boost of sneaky veggies! Enjoy the perfect breakfast, snack or even healthy dessert.
Let's just jump right into it: yes, I made you a key lime pie smoothie that tastes just like a slice of pie and yes, I added whipped cream and graham crackers on top. You know how I do.
It may or may not look like a boozy drink you should be sipping on the beach and I'm pretty into it. Although, there's no booze in this smoothie, just creamy coconut milk, protein-packed yogurt, and even a sneaky boost of veggies you can feel good about.
Ingredients:
1 large frozen ripe banana, sliced
Zest from 1 small lime or key lime
2 tablespoons fresh lime or key lime juice
½ cup vanilla or coconut greek yogurt (use coconut based yogurt to keep it dairy free!)*
½ cup light coconut milk (or milk of choice)
1/2 cup fresh spinach**
½ teaspoon vanilla extract
Optional: 1-2 teaspoons maple syrup or honey to sweeten if necessary
For serving:
Extra lime wedge, for rimming glass
Graham Cracker Crumbs
Whipped cream
Shredded Toasted Coconut