Sweet and Sour Tofu Recipe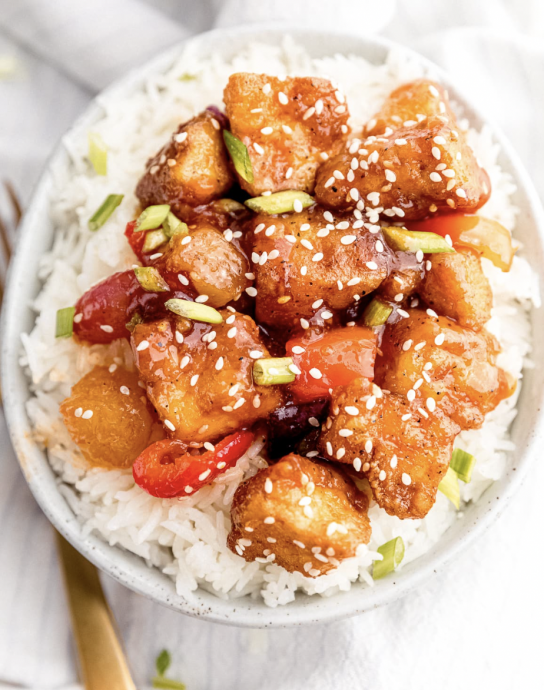 This Sweet and Sour Tofu is one of my favourite comfort foods ever of my favourite takeout! The tofu is crisp with a perfect texture and the sweet and sour sauce is unbelievably delicious! It comes together quickly and tastes amazing as meal prep too!
After years of making tofu, I'm proud to say we know how to make it perfectly crispy. Cornstarch crisps up the tofu while wicking out any excess liquid. It's also gluten free so works well for that.
My second tip is to always, always press your tofu. I also say it in my how to cook tofu 101 blog post, it's not tofu's job to have flavour. It's up to us to season it, in fact, I'm glad it barely has a flavour. It takes on anything you want it to. Removing the liquid from tofu allows it space to absorb all the flavour you want it to have. Those two, plus a nice hot pan to crisp it up in will create perfect tofu for this dish and beyond!
Ingredients:
Crispy tofu
1 16 ounce block of firm or extra firm tofu, pressed, and torn into 1 to 2 inch pieces*
1 tablespoon soy sauce, gluten free if needed, or liquid aminos or tamari
1/2 teaspoon garlic powder
1/4 teaspoon sea salt
1/4 teaspoon ground black pepper
1/3 cup cornstarch
1/4 cup oil for frying
Sweet and sour sauce
1/2 cup sugar, i use cane sugar, you can use brown or any granulated
1/4 cup ketchup
1/4 cup vinegar, preferably rice or white
1/4 cup water
1 tablespoon soy sauce, gluten free if needed, or liquid aminos or tamari
1 teaspoon garlic powder
1 medium bell pepper, chopped
1/2 cup chopped/cubed pineapple
1/2 medium red onion, chopped
1/2 tablespoon sesame seeds, for garnish
Chopped scallion, for garnish