Elote Style Quinoa Salad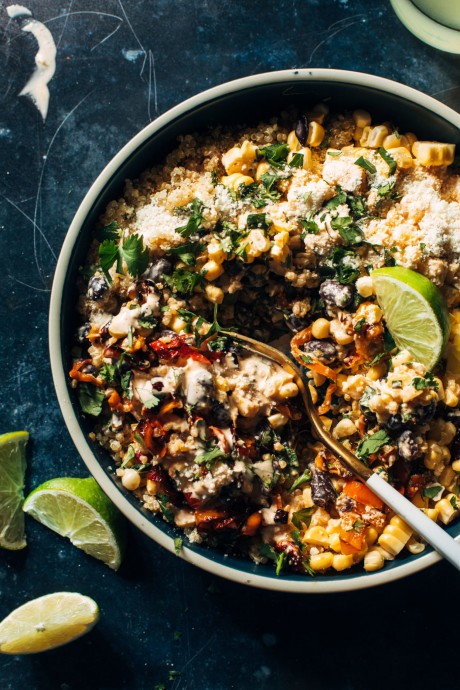 Elote Quinoa Salad made with velvety peppers confit, juicy sweet corn, homemade dressing, cotija cheese, lime, and spices. Perfect for summer and so, so good! Alright, let's get this summer star ready. Quinoa and prep. Use your fave method to cook quinoa and get your sweet corn shaved from the cobs.
Pepper confit. Drizzle a generous amount of olive oil in a skillet and add the pepper rings. Cook, stirring occasionally, for about 20 minutes or until very soft and roasty-looking. For a flavor bonus, you can squeeze a little lime juice in the pan to lift all the browned bits off the bottom of the pan when you're done! Homemade dressing! You'll whisk all the ingredients up and then taste and adjust as necessary. It might taste super salty and that's okay! It's going on a bunch of raw, unseasoned ingredients so you're going to want it to have lots of flavor. Toss and serve. Throw everything in a bowl (or okay fine, arrange nicely if you are a star) just before serving. Drizzle with all that beautiful creamy dressing. Yum! That's it! Pretty easy peasy. Then you can continue to doll it up as you like.
Ingredients:
Salad:
1 cup Simple Nature Organic Quinoa, uncooked
5 ears sweet corn, cut off the cob
1 can Simply Nature Organic Black Beans, rinsed
1 package mini sweet peppers, sliced into small rings (about 2–3 cups)
olive oil for cooking
1 cup chopped fresh cilantro
Dressing:
1/3 cup Burman's Mayonnaise
1/4 cup buttermilk
1 clove garlic, grated
1 teaspoon Stonemill Chili Powder
1/2 to 1 teaspoon salt
juice and zest of two limes
Pueblo Lindo Grated Cotija Cheese for topping