Low Carb Chocolate Chip Skillet Cookie (Nut Free)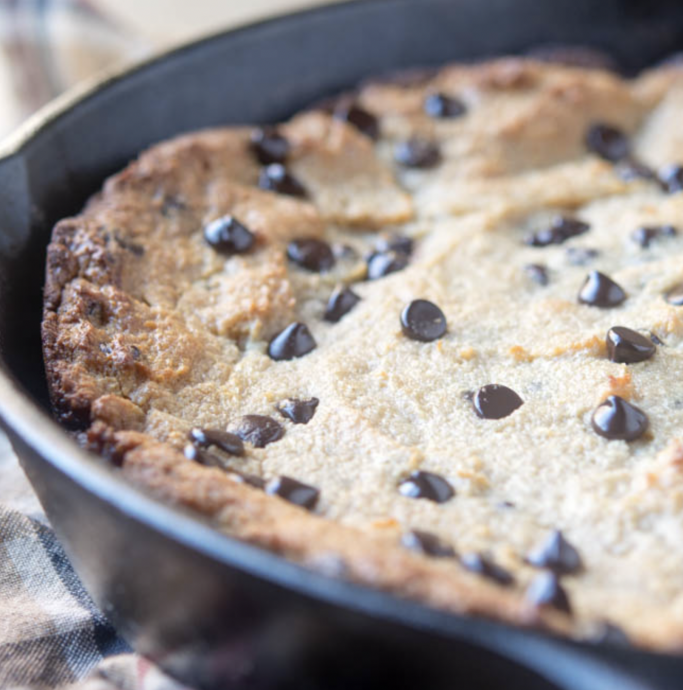 This Amazing Low Carb Keto Skillet Cookie is gluten free, sugar-free, nut free and in just one decadent bite you feel like your cheating on your sugar-free keto diet, but you're not! Just 4g net carbs per serving, perfect for those on a ketogenic diet or those living a low carb lifestyle!
The cast iron skillet really creates that outer cookie crispness and perfect gooey center. After making this recipe twice in the slow cooker and doing some tweaks with the amounts of flour, I opted to try it a third time in a cast-iron skillet and I am so happy I did. Masterpiece right here!
Ingredients:
¾ cup unsalted butter softened
4 oz cream cheese softened
4 oz sour cream
1 cup Sukrin Gold, packed or Swerve Brown sugar
1 teaspoon vanilla extract
½ teaspoon vanilla liquid stevia
¼ cup heavy cream
2 eggs
2 cups sesame flour (or 200grams) or if no tree nut allergies use almond flour
1 teaspoon xanthan gum
1 teaspoon baking powder
1 teaspoon salt
½ cup sugar free chocolate chips or dark chocolate chunks!