New York Hot Dogs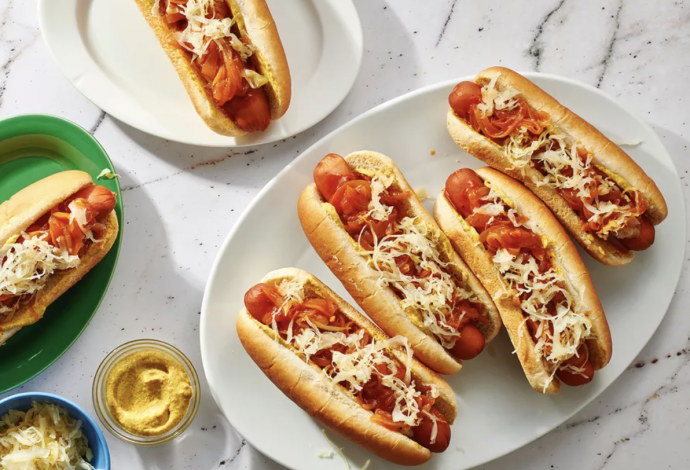 These hot dogs are the classic snack that are available from street carts all across New York City. But you don't have to travel to the Big Apple to enjoy this delicious dish—they're easy to make at home and require no fancy techniques or equipment.
All-beef hot dogs are topped with a homemade onion relish, sauerkraut, and brown mustard, then nestled into a soft hot dog bun. The hot dogs are boiled just like they are on the street cart, but you can also grill them or cook them on a skillet.
We included a recipe for a flavorful onion sauce, the secret ingredient to making a truly authentic New York hot dog. It's a unique sweet and sour onion relish and it makes the iconic street-cart dog something special. Serve these dogs at your next cookout, game day feast, or weeknight dinner.
Ingredients
For the Onion Sauce:
2 tablespoons vegetable oil
2 medium onions, sliced
2 tablespoons honey
1/2 teaspoon chili powder
1/4 teaspoon ground cinnamon
1/2 cup water
1/4 cup ketchup
1 teaspoon hot sauce
1 teaspoon Worcestershire sauce
1/2 teaspoon kosher salt
1/2 teaspoon black pepper
For the Hot Dogs:
8 large beef hot dogs
8 hot dog buns
1/4 cup Spicy brown mustard
1 cup sauerkraut, optional