Glazed Lemon Cranberry Bread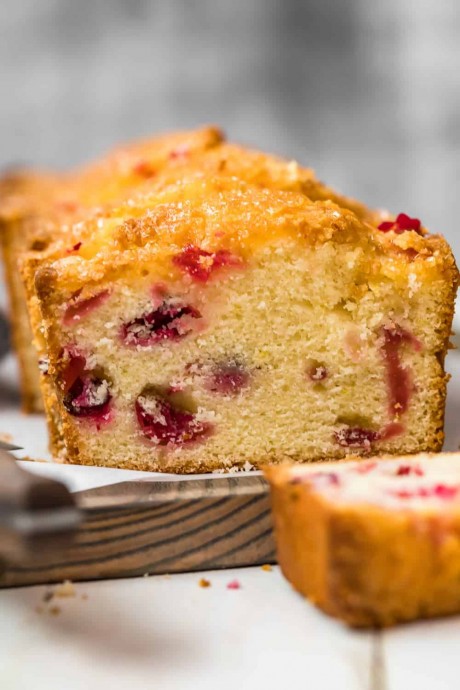 This glazed lemon and cranberry bread is the perfect quick sweet bread recipe for the holidays. Finished with a sweet and tangy lemon glaze, this bread loaf is perfect for breakfasts and brunch and wonderful as a mid-afternoon snack with a cup of coffee. Made with cranberry and orange it's the perfect seasonal treat!
Because there is no yeast in this bread recipe, you don't need to allow time to let it rise, so it's a great recipe to try if you are short on time. The bread is sweet and tangy and the lemon glaze is so easy to make but really finishes this loaf perfectly.
You can make a couple at a time to gift as gifts to friends and neighbours during the festive season. Simply wrap the cooled bread in parchment and tie with a ribbon, or place in a large cellophane bag and gift wrap. They make for a really personal gift that really doesn't take much effort at all!
Ingredients:
For the Bread
1 cup fresh cranberries
1 2/3 cups all-purpose flour plus 1 tablespoon for dredging cranberries
½ cup 1 stick unsalted butter, softened
1 cup granulated sugar
2 large eggs
1½ teaspoons baking powder
¼ teaspoon table salt
½ cup milk at least 2%
1 tablespoon grated lemon zest about 1 medium lemon
For the Glaze
¼ cup granulated sugar
¼ cup freshly squeezed lemon juice