Shrimp Fried Rice Recipe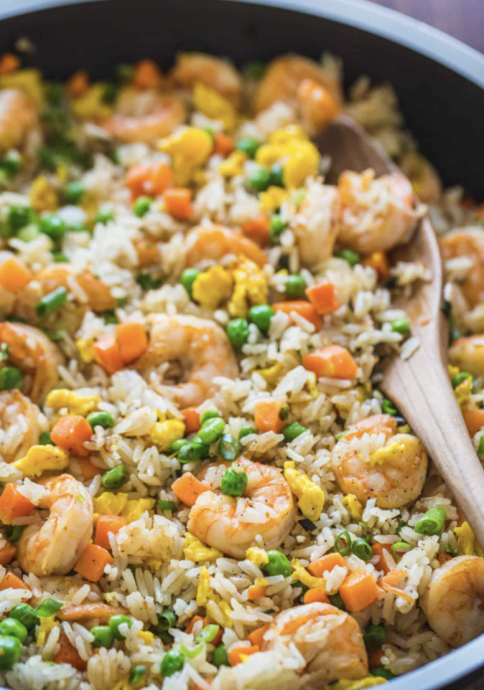 Shrimp Fried Rice is one of my go-to 30-minute meals and my family can't get enough of it. Shrimp and rice loaded with veggies and egg is a protein-packed and easy dinner. Fried Rice is the best way to use leftover Cooked Rice. Here is our best advice for making perfect (non-sticky) fried rice: Ingredients prepped ahead: The cooking process moves fast, so be sure to have everything prepped and ready before you start the stove. Chilled rice: Start with cold cooked rice. Leftover rice is best. Avoid fresh, warm rice or it will become sticky and gooey when it hits the pan.
High heat: Fried rice is supposed to cook quickly over high heat so give your pan a chance to heat up. Also, give the ingredients time to sizzle and resist the urge to stir constantly. Follow the process: Add ingredients to the pan separately and in the order listed. Adding everything at once will cool the pan too quickly and your fried rice will fail. Add sauces to taste: Add soy sauce and sesame oil to your taste preference. Depending on how your rice was cooked (with or without salt) or if you use low sodium soy sauce, you will likely need to adjust soy sauce and sesame oil.
Ingredients:
1 lb 26-30 count uncooked shrimp , (peeled and deveined)
1 tsp cornstarch
1/4 tsp sea salt
1/4 tsp freshly ground black pepper
3 Tbsp LIGHT olive oil, or canola
4 large eggs, beaten
1/4 cup green onion, finely chopped
5 cups leftover chilled white rice , (rinse rice before cooking)
12 oz frozen carrots and peas, thawed
2 Tbsp soy sauce or coconut aminos , or added to taste
1 1/2 tsp sesame oil