One Pot Cheesy Taco Orzo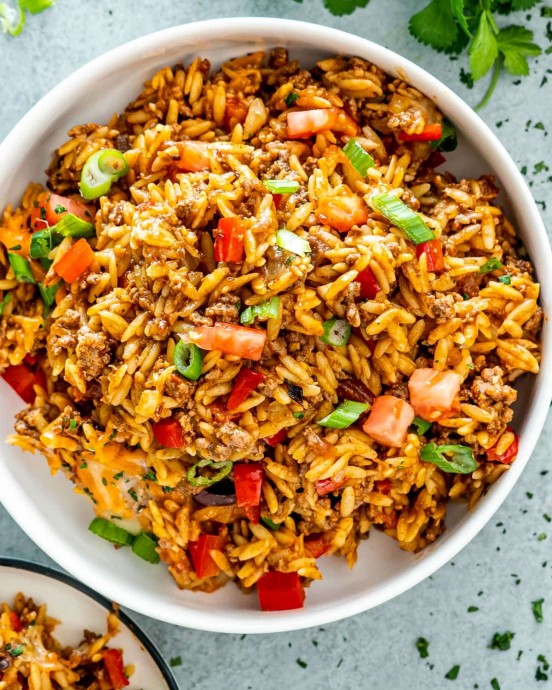 This One Pot Cheesy Taco Orzo is super cheesy and delicious! One pot of quick and feel-good comfort food, ready in just 30 minutes. This Cheesy Taco Orzo is topped with lots of cheese, and your favorite taco toppings. Enjoy a big bowl of cheesy gooey goodness!
At the very least, I think you should bookmark this recipe for a busy weeknight or when you're in a pinch because you couldn't get off any easier with making dinner. Another thing I love about this dish is how pretty and colorful it is, because as you all know we first eat with our eyes, and I'm all about colorful and pretty dishes. One last thing to mention here is the more cheese the better, although I only list one cup of shredded cheese in the ingredients list, go big or go home.
The thing is, I really dig this dish (do people still say dig?) because I'm a sucker for anything cheesy, especially cheesy pasta. And I even like to fool myself into thinking this dish is healthy because I did add some veggies to it, like the bell pepper and all those toppings like the tomatoes, green onions and olives.
Ingredients:
1 pound ground beef
1 small onion chopped
3 cloves garlic minced
1 red bell pepper chopped
2 cups orzo uncooked
2 cups taco skillet sauce
2½ cups chicken broth low sodium
½ teaspoon salt or to taste
¼ teaspoon pepper or to taste
1 tablespoon hot sauce such as Sriracha
1 cup cheese shredded, I used a blend of Mozzarella and Cheddar
Toppings (optional)
tomatoes chopped
olives chopped
green onions chopped
fresh cilantro chopped