Bolognese Sauce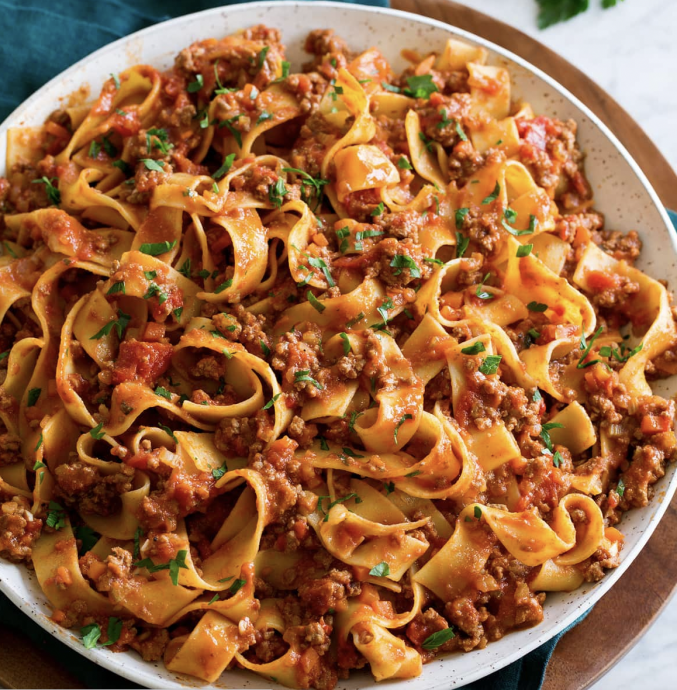 Our favorite homemade Bolognese Sauce recipe! It's a beef and tomato based sauce that is simmered low and very slow until rich concentrated flavors have developed and the meat is perfectly tender. It's one of the ultimate pasta upgrades!
Bolognese is a slow cooked, thick Italian pasta sauce made up of some type of minced meat (usually beef or pork) and tomatoes. It also includes soffritto which is simply a blend of carrot, celery and onion, and here it's used as a base to build up flavor of the sauce.
The process involves sautéing and gently simmering over the stovetop, and seasonings vary by recipe including things such as herbs, nutmeg or garlic.
Bolognese is pronounced in Italian boh-loh-nyey-zey and in English bow-luh-nayz.
Ingredients:
6 Tbsp butter, cut into 1 Tbsp pieces, divided*
1 1/2 cups finely chopped yellow onion
1 1/4 cups peeled and finely chopped carrot
1 cup finely chopped celery
1 1/2 Tbsp minced garlic (4 cloves)
2 lbs. 85% lean ground beef
Salt and black pepper
2 (28 oz each) cans San Marzano tomatoes in puree, well crushed by hand (such as Cento)
1 1/2 cups whole milk
1 cup dry white wine, such as Sauvignon Blanc
1/3 cup fresh basil stems (with leaves)
1 parmesan rind
1 cup parmesan for serving, or more to taste
Unsalted chicken stock or broth, as needed to thin sauce