Raspberry Cake with Lemon Buttercream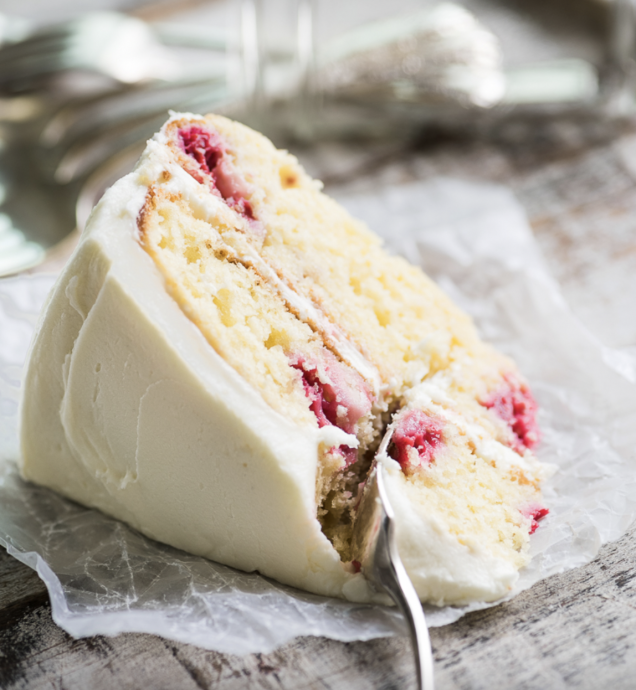 My Raspberry Cake recipe with lemon buttercream is made with yogurt, fresh raspberries, and lots of lemon juice for an old fashioned from-scratch layer cake that's perfect for birthdays and special occasions, or any time you want to pamper yourself.
This cake comes together a little differently than most cakes. The eggs are separated, and the whites are beaten and folded into the batter. It gives the cake a light sponge cake texture which is really nice.
The flavors of this cake really sing, partly because whole raspberries are folded into the batter just before baking. But fresh raspberries are incredibly delicate, and will inevitably break apart as you stir them in. I've got a solution for that!
Use frozen berries if you would like them to stay in tact when folded into the cake batter. Do not thaw them before using.
If you have fresh berries, consider popping them in the freezer for a short while to firm them up before using.
Ingredients:
9 Tbsp unsalted butter, at room temperature
1 cup granulated sugar
zest of 1 lemon
3 large eggs, separated
1 tsp vanilla extract
2 cups all purpose flour
2 tsp baking powder
1 tsp salt
1/2 tsp baking soda
1 cup plain greek yogurt (you can use vanilla yogurt as well)
1 1/2 cups raspberries (I like to use frozen berries)