Potato Chip Frittata With Caramelized Onions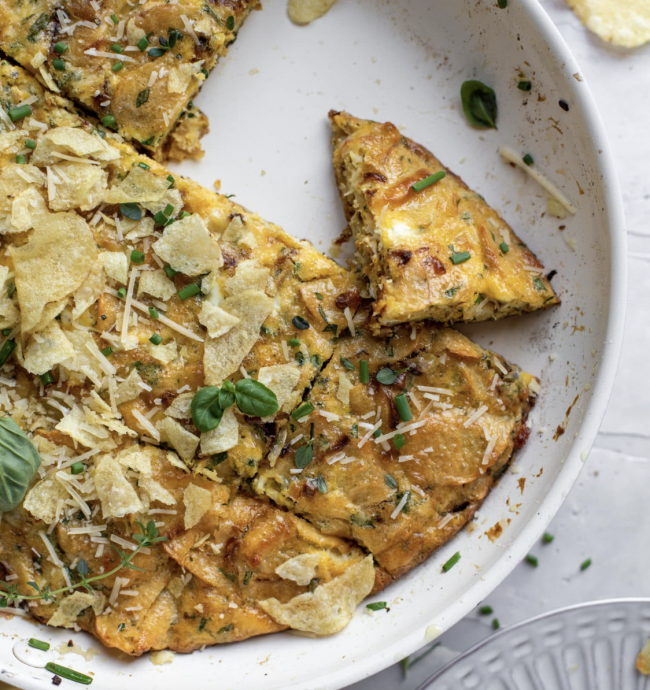 Chips are never the first snack that I reach for, but if kettle cooked chips are in my face, I cannot resist. Like, AT ALL. They are just so perfectly crispy and crunchy.The frittata has a bunch of other delicious components too:
It starts with caramelized onions, The best best best. These take awhile, but they are worth it. There are lots of chopped herbs, like basil and parsley and chives and rosemary. Of course, it has cheese too! Then the chips. Crunch crunch crunch. It's a perfect breakfast, brunch, lunch or dinner situation. Leftovers are great. It's delicious hot or cold. Really, it has all the things that make for a wonderful meal. So, what I'm saying is that it doesn't get any better than this!
Ingredients:
2 tablespoons butter
1 sweet onion, thinly sliced
salt and pepper
6 large eggs
3 tablespoons heavy cream or half and half
⅓ cup chopped fresh herbs, like parsley, basil, thyme, chives and rosemary
2 garlic cloves, minced
1 cup freshly grated mozzarella or provolone cheese
2 ½ cups kettle cooked potato chips
parmesan cheese, for sprinkling
extra chopped fresh herbs, for garnish