Cauliflower Fried Rice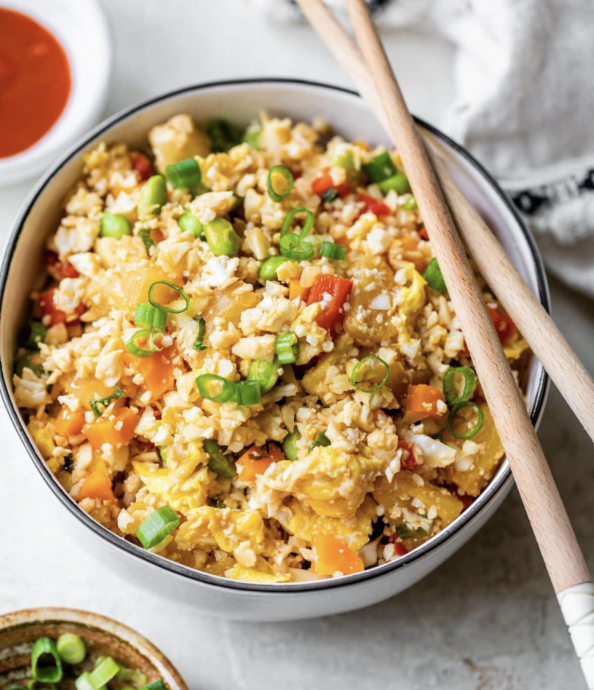 In keeping with my life's legacy of tardiness, I arrived at riced cauliflower years behind schedule. Better late than never, especially when it comes to Cauliflower Fried Rice! Low in carbs and a veggie-packed substitute for regular rice, cauliflower "rice" is a one-time trend turned standby. You'll find it on many restaurant menus, at grocery stores, and in home kitchens, including my own.
If you've somehow yet to be acquainted, cauliflower rice is a low-carb swap for regular rice. It's made entirely of cauliflower, so it's grain-free too. Most often, I mix cauliflower rice 50/50 with brown rice to go along with regular stir fry recipes (like Teriyaki Beef Stir Fry). Given the full-on fried rice treatment like in this recipe, however (that is bulked up with veggies, scrambled eggs, and several good dashes of soy sauce and sesame oil), cauliflower rice can go from side kick to filling main event.
Thanks to its speed, supreme tastiness, and ability to flex to whatever is lingering in our refrigerator, fried rice is on the menu almost weekly here: Homemade Fried Rice, Chicken Fried Rice, Pork Fried Rice—we love 'em all. When you are looking to pack in the most servings of veg, however, cauliflower fried rice is the one. I can't imagine a better way to consume a mass amount of vegetables, without actually feeling like I am doing so.
Ingredients:
1 medium head cauliflower
3 large eggs
2 teaspoons toasted sesame oil divided
1/4 teaspoon kosher salt
1 tablespoon grapeseed oil or canola oil plus 1 teaspoon
2 cups pineapple tidbits from one 20-ounce can or diced fresh pineapple, drained if canned
1 large bell pepper cored and diced (about 3/4 cup)
2 medium carrots peeled and diced (or substitute any other veggie you enjoy)
3 green onions sliced, plus additional for serving
2 cloves garlic minced
1/2 cup shelled edamame
2 tablespoons low-sodium soy sauce or tamari to make gluten free
2 teaspoons Sriracha sauce or garlic chili paste also called sambal oelek, plus additional to taste*