Healthy Waldorf Chicken Salad Recipe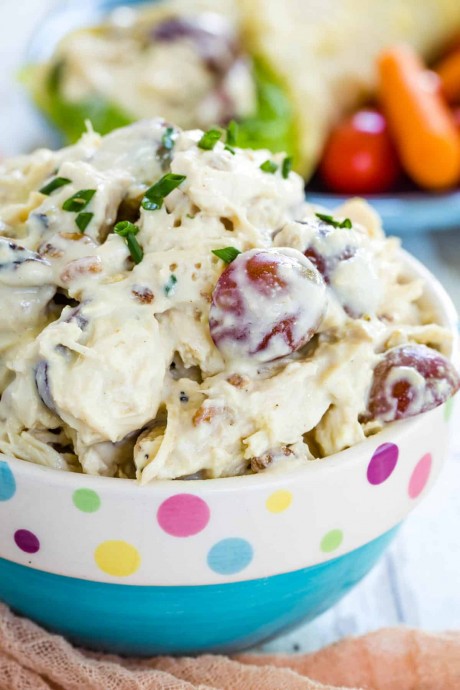 Easy, creamy, and yes, even healthy, this Chicken Salad with Grapes and Walnuts makes a delicious lunch option. It has the delicious flavors and textures of the classic Waldorf salad, only this recipe uses protein-packed Greek yogurt instead of mayo. Use it on a sandwich, wrap, lettuce wraps, or even a big green salad!
What is the best thing to do with leftover chicken? While I have lots of ideas for leftover chicken recipes, the tried and true go-to for many people is a basic chicken salad recipe.
Whether you have a few chicken breasts in the freezer that you can cook and shred, pick up a rotisserie chicken from the grocery store, or have leftover Rosemary Balsamic Roast Chicken, chicken salad makes a simple no-cook meal for hot summer days or when you just don't have time to turn on the oven or stove. And it's great to make a big batch to have on hand for lunches all week.
This easy chicken salad with grapes and walnuts takes some inspiration from the classic Waldorf salad, with a few tweaks and twists, including one important swap that makes it healthy too! And it can be mixed up in minutes with just a few basic pantry ingredients.
Ingredients:
1 cup plain Greek yogurt
1/4 cup Dijon mustard
2 Tablespoons honey
2 Tablespoons apple cider vinegar
4 cups shredded, cooked chicken (about 1-1 1/3 lbs boneless, skinless chicken breasts, cooked)
1 cup grapes, halved or quartered
1/2 cup chopped walnuts
1 Tablespoons chopped chives, or more, to your preference
salt and pepper, to taste