Vegan Chickpea Umami Burgers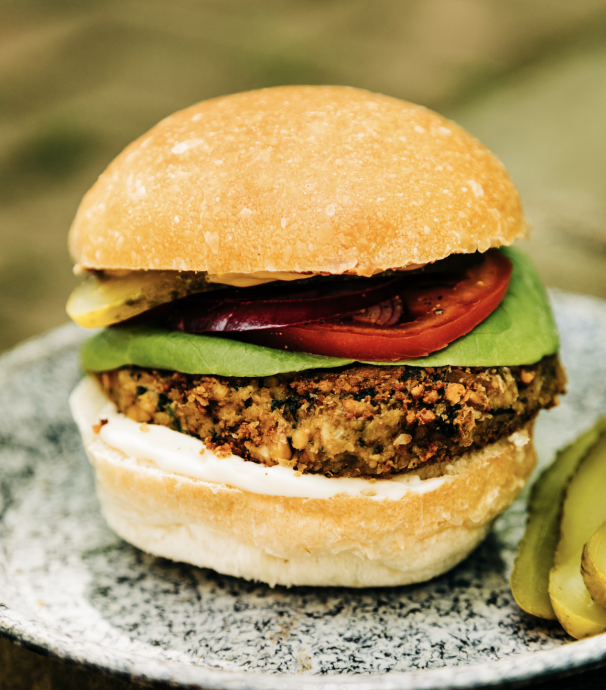 These vegan chickpea umami burgers from Desiree Nielsen's Good For Your Gut cookbook are super flavourful with sun dried tomatoes, lemon zest, Tamari, and spices. This is a pantry-friendly recipe for sure! These vegan burgers come together in about 30 minutes.
The recipes are labelled within 3 categories: Protect, Heal, and Soothe. All of them sound so delicious, which is my main attraction here! Some other recipes I'm looking at: Raspberry and Chocolate Rye Muffins, Sheet Pan Harissa Tofu and Veggies, Brussels Sprouts Caesar with Garlicky Walnuts, and the Salted Tahini Caramel Popcorn Bars.
Ingredients:
2 cups baby spinach, tightly packed
1 medium shallot, chopped
½ cup raw walnuts
⅓ cup sun-dried tomatoes in oil, drained and patted dry
3 cups cooked chickpeas (two 398 mL cans)
½ cup rolled oats
2 tablespoons nutritional yeast
2 tablespoons ground flaxseed
1 teaspoon ground cumin
1 teaspoon garlic powder
sea salt and ground black pepper, to taste
½ teaspoon onion powder
2 tablespoons water, plus more if needed
3 tablespoons olive oil, divided
1 tablespoon gluten-free Tamari soy sauce
zest of ½ a lemon