Fresh Homemade Salsa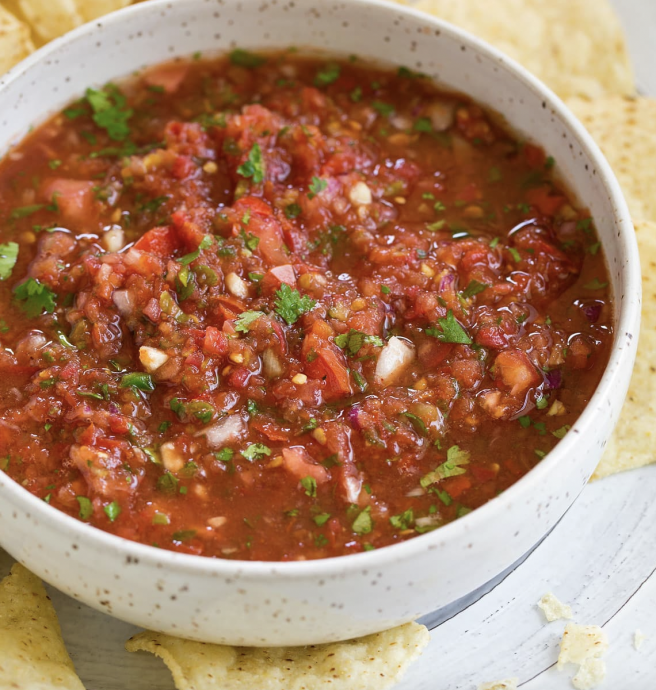 The Best Homemade Salsa Recipe! This homemade restaurant-style Salsa is one of my most frequently made recipes! It's perfect served with tortilla chips or as a topping over your favorite Mexican food, like tacos, burritos, taquitos and so forth. The best party food around and a must-have snack!Fact: the best salsa is made with fresh tomatoes. Okay, that's just my opinion, but in the past I thought I could go the route of using all canned tomatoes, but using fresh tomatoes makes a world of difference! Fresh tomatoes make the best salsa, especially when you use nicely ripened in season tomatoes.
This is hands down my favorite salsa recipe, and I don't know that I'll ever need another one. It just has the perfect ratio and blend of everything.
It's not too oniony or garlicy, nor too spicy for my kids, it doesn't tasting like it came from a can and it has the perfect brightness with the fresh lime. Then it has a classic Mexican flavor with the cilantro and hint of chili powder and cumin.
Ingredients:
1 1/4 lbs ripe Roma tomatoes* (about 5 - 6)
1 (14.5 oz) can petite diced tomatoes**
2 green onions,*** ends trimmed, chopped into thirds
1/3 cup chopped red onion (about 1/4 of a medium)
1 jalapeno pepper,**** seeded and roughly chopped
1/3 cup fresh cilantro (about a handful)
1 large clove garlic, roughly chopped
2 Tbsp fresh lime juice
1/2 tsp chili powder
1/4 tsp ground cumin
1/2 tsp granulated sugar (optional)
Salt and pepper to taste