Roasted Buffalo Cauliflower Lettuce Cups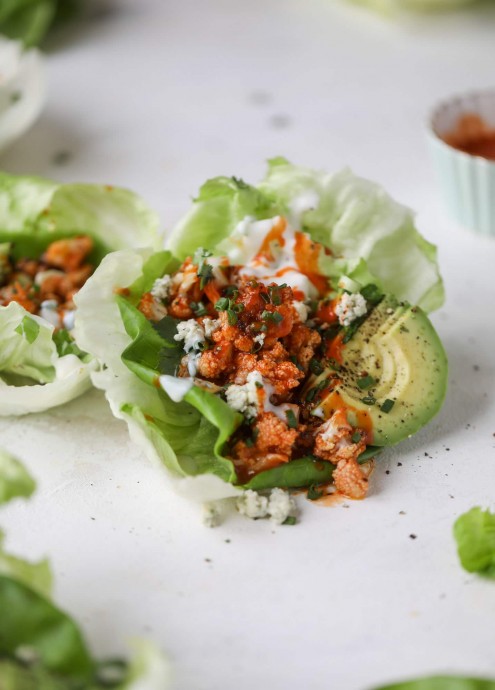 These buffalo cauliflower lettuce wraps are similar to the flatbread, without the bread!
One of my favorite ingredients to incorporate here is avocado. It adds satiety to the meal as well as that creaminess that competes with the bite of the wing sauce.
And of course, all of my other favorite components of buffalo wing inspired dishes, like scallions and chives and cilantro and blue cheese!
These make for one heck of a delicious bite. They are my MUST haves for all the buffalo wing flavor.
Ingredients:
1 head of cauliflower, cut into florets
1 tablespoon olive oil
½ teaspoon garlic powder
pinch of salt and pepper
1/3 cup buffalo wing sauce, plus extra for drizzling
1 head of butter lettuce, leaves removed
1 head of iceberg lettuce, leaves removed
1 to 2 avocados, thinly sliced
1/3 cup crumbled gorgonzola cheese
½ cup sliced green onions
3 tablespoons chopped fresh cilantro
3 tablespoons chopped fresh chives
ranch or blue cheese dressing, for drizzling