Pesto Shrimp and Parmesan Risotto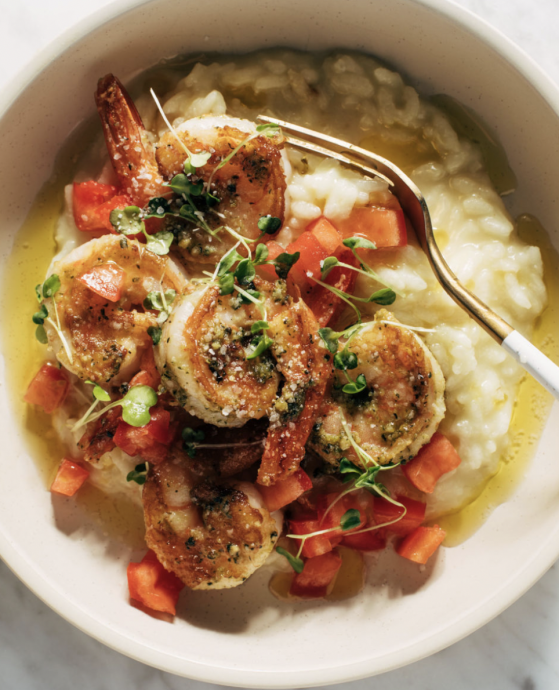 Tender, juicy, garlic-marinated shrimp brushed with a bright pesto sauce and piled high on creamy Parmesan risotto with fresh tomatoes and herbs sprinkled on it all. Wow wow wow! Diving in now!
There are several things we could say and then just stop and you'd of course run to the kitchen with no explanation because YUM. Like, "creamy parmesan risotto" or "tender, juicy, garlic & lemon marinated jumbo shrimp" or "pan-seared and draped in a bright lush pesto."
But honestly, what if all of that was part of the same dish and you were already head over heels about it?
It's true, it's true. The risotto is tender and rich and feels so special, the subtly sweet perfection of the quick marinated shrimp is sealed in with a golden brown sear. The pesto, oh the pesto…fresh, zippy, full of warm summer basil flavor. This one's a treat.
Ingredients:
Parmesan Risotto:
1 tablespoon butter
1 clove minced garlic or 1 minced shallot (or both)
1 cup DeLallo Risotto Arborio Rice
1/2 cup white wine (sub chicken broth + a little lemon juice)
3-4 cups of chicken broth
1/2 cup Parmesan cheese
optional: tiny drizzle of truffle oil
Pesto Shrimp:
1–2 pounds jumbo shrimp (shells removed and tails on or off, whatever you prefer)
2 cloves garlic
2 tablespoons olive oil
1 teaspoon salt
zest of 1 lemon (optional)
1/4 cup DeLallo jarred pesto
1–2 roma, beefsteak, or any kind of fresh juicy tomatoes, chopped
herbs for topping